Global Philadelphia Association Names 2023 Globy Award Winners, Honoring the Global Impact Made by 6 Philadelphia Leaders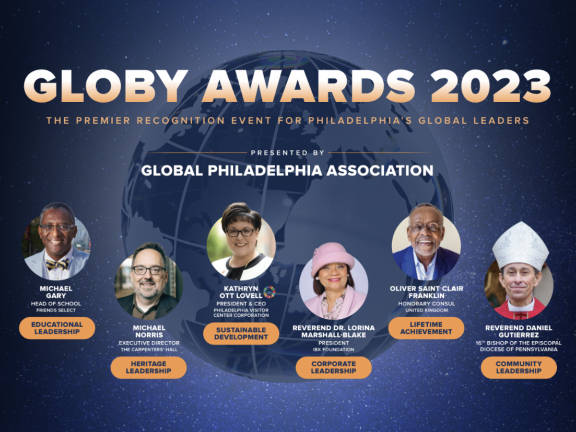 Global Philadelphia Association has officially announced the six honorees for the 2023 Globy Awards, an annual award program distinguishing the Philadelphia citizens who have made a global impact for the benefit of the city, honoring individuals in six leadership categories: Education, Historical and Cultural Preservation, Community, Corporate, Sustainable Development, and Lifetime Achievement.
"Every year, The Globy Awards shine a spotlight on the brilliance and dedication of Philadelphia's finest global citizens and leaders," said Zabeth Teelucksingh, President of Global Philadelphia Association.
"This remarkable celebration of innovation and global mindedness across six vital categories not only recognizes outstanding achievements but also inspires us to continue our journey towards a brighter, more interconnected world. Through education, cultural preservation, community building, corporate leadership, sustainable development, and lifetime dedication, these honorees remind us that our city's future is intricately linked with our global impact."
The Globy Awards will be held from 11:00 a.m. to 2:00 p.m., with the program beginning at 12:00 p.m., on December 11, 2023, at The Westin Philadelphia at Liberty Place (99 South 17th Street, Philadelphia, PA).
"In a world where connections and collaborations transcend borders, The Globy Awards stand as a beacon of recognition for those who understand that the heart of Philadelphia beats not only within its streets but also in the collective spirit of its global citizens. These awards celebrate the visionaries who tirelessly champion innovation, cultivate unity, and ignite change across our great city," said Rob McNeil, Board Chair of Global Philadelphia Association.
---
The 2023 awardees include:
Lifetime Achievement: Oliver St. Clair Franklin OBE, Honorary Consul, United Kingdom
Oliver St. Clair Franklin OBE is the third Honorary British Consul for Greater Philadelphia. In this role, Oliver liaises with the Consul General in New York and the British Embassy on providing advice to businesses, solving consular issues in the region, and engaging in public diplomacy. Oliver has been a BABCPHL Board Member for more than two decades, and he was appointed by the UK Government in 1998 to represent British interests in the Philadelphia region. In 2002, Her Majesty the Queen bestowed the OBE Honour in recognition of his services to British business. In his public diplomacy role, Oliver has hosted senior members of the British Royal Family as well as government ministers and members of Parliament. He created a program for Philadelphia public high school students to visit London and founded another initiative to provide opportunities for mid-career American minorities to work in UK investment banks. Oliver arrived in Philadelphia in 1970 and was the Director of Special Projects at Penn's Annenberg Center where he founded a national Black Film Festival, was treasurer of the Pennsylvania Humanities Council, and served on several panels for the National Endowment for the Arts.
Educational Leadership: Michael Gary, Head of School, Friends Select
Michael Gary has served as head of Friends Select School since 2016. Prior to this appointment, he served as director of admissions at Phillips Exeter Academy from 2002 to 2016. Before joining Exeter, Michael served for six years as director of admissions and financial aid at The Peddie School, where he also taught economics. He also served as associate director of admissions and director of multicultural affairs at Pomfret School. Michael is currently a faculty member at the National Association of Independent Schools Institute for New Heads and serves on the boards of the Pennsylvania Association of Independent Schools, Parkway Council, Athenaeum of Philadelphia, Independent Trust, Reading Allowed, and Trinity College.
"I'm honored and humbled to be recognized among such great Philadelphia leaders. Friends Select School strives daily to be an institution that is both in the city and of the city, with Philadelphia acting as a classroom, playground and laboratory for our students and teachers. I admire how all the Global Philadelphia honorees work to make a similar connection, and I'm excited for us all to collaborate to better educate both our community and the city." – Michael Gary, Head of School, Friends Select
Heritage and Preservation Leadership: Michael Norris, Executive Director, The Carpenter's Hall
Michael Norris is Executive Director of the Carpenters' Company of the City and County of Philadelphia, which owns and manages Carpenters' Hall, a National Historic Landmark in Philadelphia's historic district. Michael oversees all of the Company's programming and operational activities as it prepares to celebrate its 300th Anniversary in 2024 and the 250th Anniversary of the First Continental Congress, which was held at Carpenters' Hall in 1774. Michael joined the Carpenters' Company in June 2019, after a seven-year tenure as Vice President of External Relations and Chief Strategy Officer at the Greater Philadelphia Cultural Alliance, where he oversaw the organization's policy, advocacy, and community engagement programs and its fundraising activities. Before that, Michael served for eight years as the Executive Director of Art-Reach, which connects underserved audiences with cultural experiences. Prior to leading Art-Reach, Michael spent nine years at the Arden Theatre Company, managing all aspects of fundraising, marketing, public relations and community outreach. He is a 2008 graduate of Leadership Philadelphia, which named him one of the region's top 76 "Creative Connectors."
"I am so grateful to GPA for this recognition, which is especially meaningful and appreciated as we approach 2024, when we will commemorate the 300th anniversary of The Carpenters' Company and the 250th anniversary of the completion of Carpenters' Hall." – Michael Norris, Executive Director, The Carpenter's Hall
Community Leadership: Reverend Daniel Gutiérrez, Bishop, Episcopal Diocese of Pennsylvania
The Rt. Rev. Daniel G. P. Gutiérrez was ordained on July 16, 2016, as the 16th bishop of the Episcopal Diocese of Pennsylvania, the second oldest and fourth largest in the Episcopal Church. Through worship, fellowship, and study, the diocese has embarked on an intentional path of mission, service, and addressing poverty. Under Gutiérrez's leadership, ineffective programs have been discarded, technology expanded, and new ministries initiated. The diocese re-opened closed churches, established new, flourishing programs, and overall has become a significant community presence. Gutierrez believes strongly in the global ministry of the Anglican Communion. The diocese is deeply engaged with the work of the Archbishop of Canterbury and the Anglican Consultative Council; a groundbreaking covenant was signed with the Diocese of Jerusalem and new ministries formed with dioceses in Latin America, Wales, Africa, Asia, and South Asia. Gutierrez sees the church as the foundation of a moral and loving nation and the cornerstone of all human relationships in the world.
Corporate Leadership: Lorina Marshall-Blake, President, IBX Foundation
Lorina Marshall-Blake is the president of the Independence Blue Cross Foundation (the Foundation), a charitable, private foundation founded in 2011, and also the vice president of community affairs at Independence Blue Cross (Independence). In her role with the Foundation, she leads strategic, programmatic, and operational efforts to fulfill the Foundation's mission to lead sustainable solutions that improve the health and wellness of the community. Under her leadership, the Foundation has established itself as a collaborator, innovator, and thought leader in addressing emerging health needs in southeastern Pennsylvania. Marshall-Blake is passionate about giving back to the community. She is involved with more than 30 professional and civic organizations, including the Anti-Defamation League and the United Negro College Fund, and is the former president of Alpha Kappa Alpha Sorority, Inc., Omega Omega Chapter. She is also an associate minister at the Vine Memorial Baptist Church in Philadelphia. Currently, she also serves on more than 25 non-profit boards and committees including the Blue Cross Blue Shield Association — Corporate Responsibility Committee, The Chamber of Commerce of Greater Philadelphia's Paradigm Award & Scholarship Committee, the Urban Affairs Coalition, and the Urban League of Philadelphia.
Sustainable Development: Kathryn Ott Lovell, President & CEO, Visitors Center
Kathryn Ott Lovell is President and CEO of the Philadelphia Visitor Center Corporation. She joined the Visitor Center in July 2023, bringing significant leadership experience and service to the City of Philadelphia, as she most recently served as the Commissioner of Philadelphia Parks & Recreation (PPR) since 2016. As PPR commissioner, Lovell instituted the department's first strategic plan, which established a renewed vision and set in motion a powerful trajectory toward an equitable and exceptional parks and recreation system, that connects people to each other, enriching experiences, and the natural world. She has led innovative initiatives to activate Philly's parks and engage residents and visitors city-wide, including Enhanced PlayStreets, Swim Philly, The Oval+, Parks on Tap and the Philadelphia International Unity Cup soccer tournament. Ott Lovell has also spearheaded ambitious park projects including the transformation of FDR Park and the reimagining of the Benjamin Franklin Parkway.
"I am honored to join the group of distinguished Philadelphians who've received a Globy Award in recognition of their efforts to cultivate a shared spirit of civic pride and global citizenship in our City. During my time at Philadelphia Parks & Recreation, we worked hard to build sustainability and resilience into every aspect of Philadelphia's public spaces and civic commons, and I look forward to continuing that commitment at Philadelphia Visitor Center Corporation." -- Kathryn Ott Lovell, President & CEO, Visitors Center
---
ABOUT GLOBAL PHILADELPHIA:
The Global Philadelphia Association consists of more than 200 internationally involved organizations, businesses, and individuals in Greater Philadelphia. It was created to assist – and to encourage greater interaction among – the many organizations and people who are engaged in international activity in the Greater Philadelphia Region, to promote the development of an international consciousness within the area, and to enhance Philadelphia's global profile. For more information, visit the website: globalphiladelphia.org.
Media Contact:
Ally Wengel
Cashman & Associates
[email protected]
908.914.5052

Topic
Arts and Culture
Business and Commerce
Global Affairs