Contact Information
Johnathan Lovitz
Founder & CEO
9546955896
Location
Lovitz Strategies
Philadelphia , PA
United States
Lovitz Strategies
Organization/Business type
Civic/Community Organization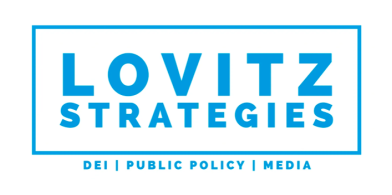 Lovitz Strategies launched in 2022 to bring Jonathan's decade+ of experience at the intersections of business, public policy & government, media, and community advocacy to help companies, nonprofits, and community networks make a difference.
Jonathan Lovitz is a nationally recognized small business and public policy advocate, media strategist, and trusted public speaker and consultant on issues of diversity, equity, inclusion, and belonging.
In his role as Special Advisor to the National LGBT Chamber of Commerce he helped write, lobby for, and pass the more than 25 federal, state, and local laws passed in recent years opening billions of dollars in economic opportunity to minority small business owners, including veterans, those with disabilities, and LGBTQ-owned businesses.
Jonathan continues to lead advocacy initiatives across America on voting rights, nondiscrimination, healthcare access, gun safety, and more. Lovitz is a regular guest on MSNBC, CNBC, NPR, and Bloomberg, among others, and is one of the most sought after corporate and educational speakers and strategists today.
---
Types of services offered:
Legislation - Advocacy Strategies - Coalition Building - Union Relations
From City Hall to the White House, our team has the experience you need drafting & passing legislation, building deep relationships with elected officials & senior staff, and turning your advocacy goals into the change we need to see.
Diversity, Equity & Inclusion Strategies for Corporations and NGOs
ERG Development - HR Solutions- Supplier Diversity - Strategic Community Partnerships
D, E, and I are the difference between success and failure in a modern, diverse, and globalize economy. Our team will help you make the business case and get it right in the workplace, supply chain, and marketplace.
Media Relations, Public Affairs, and Communications
Media Training - Story Placement - Press Strategies - Storytelling
Your message needs a spotlight and a microphone to make the biggest impact. Our team can help ensure you reach the audiences you want, find the partners you need, and tell your story in a way that inspires change and opportunity.