World Heritage Week: National Historic Landmarks Special Feature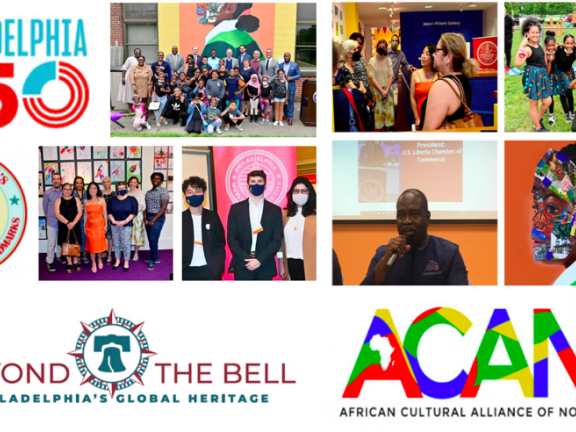 By Gary Wooten
Philadelphia claims 67 NHLs across the city that range from museums, cemeteries, libraries, estates, churches and community spaces. In celebration of World Heritage Week, annually observed on the third week of May, Global Philadelphia Association featured eight of the local NHLs in a video showcasing the international importance of our city.
The content of the
video
was recorded during the International Day of Monuments and Sites on April 18, where a number of NHLs offer discounted rates or special content in celebration of this internationally recognized day. While many sites participated during IDMS 2022, GPA was able to attend and document the following NHLs: Reading Terminal Market, Historic Johnson House, The Woodlands, Girard College, Laurel Hill Cemetery, Historic Rittenhouse Town, The Masonic
Temple of Philadelphia and Wagner Free Institute of Science. The sites listed are just a small portion of the historical sites in Philadelphia, but these eight sites cover a wide variety of the cultural makeup of this internationally recognized city.
The Reading Terminal Market is the oldest and largest public market. Johnson House was one of the many stops on the underground railroad. The Masonic Temple of Philadelphia is one of the most decadent Masonic lodges in the city and was once the tallest building in the city. These are only a few of the many historical sites within Philadelphia that make it a proud World Heritage City.
The
NHL video
was created to also show how accessible and available these sites are to the local Philadelphian community and visitors. Due to the design of the city, it is surprisingly easy to visit several NHLs in a single day. All of the locations featured in the video are no more than a twenty-minute drive from site to site. Additionally, several featured sites, like many of the NHLs, are either free or very affordable to visit.
The rich, historic knowledge that is available at every NHL is another major benefit of exploring Philadelphia as a World Heritage City. The story of Philadelphia and America can be told by the historical sites that weave through this great city.
Topic
Emerging International Journalists Program