SDG 17 Unveiling at St. Mary Parochial School: Celebrating and Building Partnerships Across Philadelphia with Art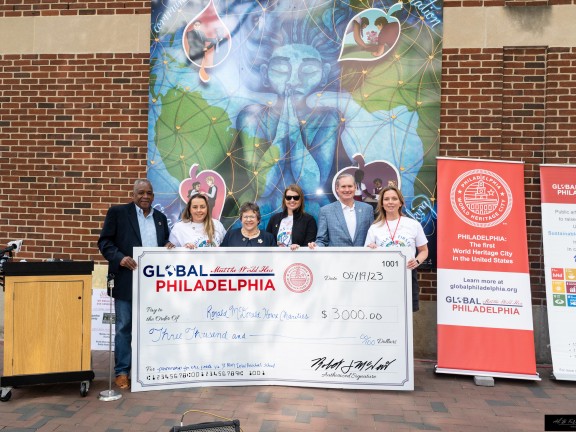 By Debora Sentosa
On Friday, May 19th, 2023, Global Philadelphia Association (GPA) and St. Mary Interparochial School celebrated the debut of an artwork made by Isabelle Cress in promoting SDG 17: Partnership for the Goals. This event officially kicked off the annual celebration of World Heritage Week, a week-long celebration of various events that highlight the many international heritages and communities in the Philadelphia area.
Since the designation of Philadelphia the first World Heritage City in the United States, GPA took a step further in promoting awareness and educating communities about the importance of the Sustainable Development Goals set forth by the United Nations. Through a series of public artwork collaborations with entities in the Philadelphia area and nearby, GPA is not only spreading the message of building a better, more sustainable world but also giving opportunities to local artists to showcase their work.
As one of the Sustainable Development Goals set forth by the United Nations, SDG 17 Partnership for the Goals recognizes the importance of global partnership and collaboration in achieving the other SDGs. The artwork made by Isabelle Cress, 2013 St. Mary Interparochial School alumni, beautifully portrays partnerships between the government, the private sector, and civil society as they are working together towards achieving a more sustainable world for future generations.
This mural unveiling event was sponsored by St. Mary's Interparochial School and was held right after St. Mary's 21st annual Walkathon. Zabeth Teelucksingh, the President of the Global Philadelphia Association, and Christina Haciski, the Executive Director of Advancement and Strategic Initiatives of St. Mary Interparochial School, opened the event with a warm welcome, surrounded by students, parents, and the school community.
City Representative Sheila Hess and City Councilman Mark Squilla were also there to speak about the importance of collaboration and promoting SDG to the Philadelphia community. Speeches from community leaders were followed by a presentation of a large-scale, $3,000 grant gifted to Ronald McDonald House by St. Mary's Interparochial School.
Jayda Pugliese, the school principal, applauded the unveiling and stated to the crowd, "We are thrilled to announce the
installation of a beautiful mural created by our talented alumni artist, Isabelle Cress '13. Isabelle's creative vision for the 17th Sustainable Development Goal and how it relates to Saint Mary's partnerships is evident in this exquisite artwork. We are honored to showcase our local, regional, national, and global partnerships in such a bold and powerful way! We remain committed to fostering these partnerships and providing our students with a well-rounded education that prepares them for success in the future."
This cheerful mural unveiling celebration came to a close with a wonderful performance of St. Mary's dance troupe and choir group singing "We Are The World," a fitting song for the occasion.
To view all of the photos from the unveiling, check out Global Philadelphia's Flickr.
Topic
SDG Campaign
Emerging International Journalists Program