Philadelphia Unveils 2023 Unity Cup: Celebrating Diversity Through Soccer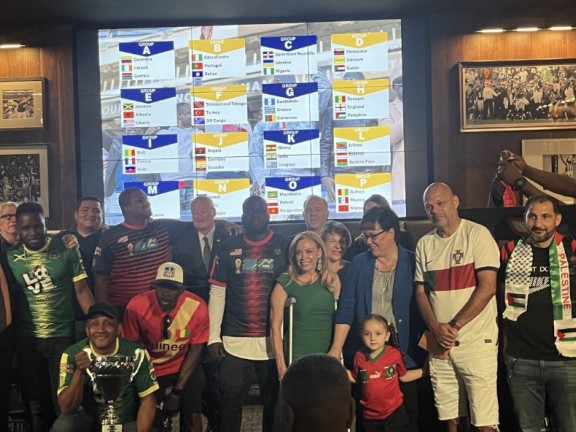 By Enya Xiang
On Thursday, June 1, the Philadelphia International Unity Cup unveiled its 2023 jersey and drew teams for the 7th Annual International Unity Cup. The draw took place at Lincoln Financial Field, the location of one of the sixteen cities that will host the 2026 FIFA World Cup.
The Unity Cup, created in 2026 under the leadership of Mayor Jim Kenney, is a World Cup-style tournament that celebrates Philadelphia's heritage as a multicultural city of immigrants. Representatives from 48 nations will play in 16 groups of three teams in this city-wide competition and friendly summer tradition.
Introducing the Draw event, Mayor Kenney emphasized that Philadelphia is a welcoming, diverse place to live, an important reminder as instances of xenphobia loom large in the background, notable examples being the COVID-19 pandemic and ongoing debates over immigration in political spheres.
He explained, "Unity Cup is the biggest, brightest example of the commitment to welcome all people." Although the 2023 Cup might be his last as mayor, he declared that he "still won't say which team I'm rooting for."
During World Heritage Week, Unity Cup hosted a youth soccer clinic with coaches from the Unity Cup tournament. Bill Salvatore, Director of the Unity Cup, commended the ability of sports to bring people together. From a professional perspective, he also appreciated how the Cup gave a new opportunity for agencies and organizations across the city to work together, from sports entities to city administration to non-profits involved in arts and culture.
World Heritage Week celebrates immigrant stories, cultural and historical heritage, and helps vibrant neighborhoods within the city thrive. GPA is a non-profit that promotes Philadelphia's designation as a U.N. World Heritage City and holds a long-term partnership with Unity Cup. City Representative Sheila Hess, who sits on the board of GPA, also attended.
The 2023 jersey contains the logo of World Heritage City as well as FIFA 2026, a reminder of not only Philadelphia's history of cultural exchange but also the city's continuing future in global engagement. The year 2026 also celebrates the 250th anniversary of the Declaration of Independence, the founding of a nation characterized by its immigrant roots.
From the Cup's humble beginnings, Mayor Kenney had a vision of bringing different corners of Philadelphia together through the game of soccer. "The Germans from Cannstatter in the Northeast playing the Mexicans in South Philly playing the Ghanaians of Southwest and so on," Kenney stated in 2016. "When you bring people together around one commonality, it's the foundation for important cultural exchange and understanding that increases tolerance across the city." The legacy of sports and global heritage continues into the Cup's seventh year.
The Unity Cup games, held all over the city this summer, are free to the public. Last year's victor Team USA defeated Team Liberia at Lincoln Financial Field in October 2022. The schedule and more information can be found on the Unity Cup website.
Topic
Emerging International Journalists Program
Sports