Global Philadelphia Association Presents their Donation to the World Heritage City of Lviv, Ukraine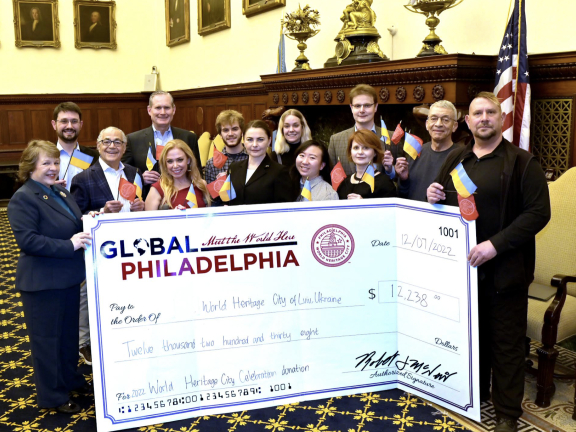 On December 7, Global Philadelphia Association (GPA) will hold a ceremony presenting a $12,238 donation to the World Heritage City of Lviv. Ten percent of proceeds collected to date from GPA's annual World Heritage City Celebration (WHCC) make up the donation.
The presentation will be held at City Hall (1 S Penn Square, Philadelphia, PA 19107) inside the Mayor's Reception Room on the second floor, Room 202, from 3:30 p.m. to 4:00 p.m. The check will be received by the leaders of the Ukraine community in Philadelphia including the Honorary Consul of Ukraine, Iryna Mazur. Both GPA President Zabeth Teelucksingh and Board Chair Robert McNeill will be in attendance to hand over the donation on behalf of GPA.
"GPA is proud to support the World Heritage City of Lviv in Ukraine. As the war in Ukraine continues, Philadelphia and GPA stand in solidarity with the citizens of Ukraine as they strive for peace and justice in their nation," said Teelucksingh. The war in Ukraine has challenged the democracy of Ukraine and disrupted the preservation of historical sites and heritage. Philadelphia is home to one of the largest populations of Ukrainians in the United States, and with this contribution GPA can support their World Heritage Partners and help preserve historical heritage in Ukraine, home to seven World Heritage Sites.
"Your help is a significant contribution to our city, which will be used to meet the current needs of the city as well as the needs of internally displaced people," said the Bureau of Foreign Cooperation in Lviv to GPA. "We are grateful for your support!"
During the ceremony, GPA will bestow upon representatives of the Ukraine community a large check representing the donation for Lviv. This will be a photo opportunity for guests in attendance. The Mayor's Reception Room will be used for the photoshoot after remarks are made by representatives from GPA and the Ukraine community.
"Help to protect and support those who take care of historical heritage. This is important for the victory in Ukraine because culture is the cornerstone of the future. That will remain forever," said Andriy Sadovyi, Mayor of Lviv, Ukraine.
---
The Global Philadelphia Association consists of more than 200 internationally involved organizations, businesses, and individuals in Greater Philadelphia. It was created to assist – and to encourage greater interaction among – the many organizations and people who are engaged in international activity in the Greater Philadelphia Region, to promote the development of an international consciousness within the area, and to enhance Philadelphia's global profile. For more information, visit website: globalphiladelphia.org
PR Contact: Andrew Beers (E) [email protected] (C) 570-856-5156
Topic
Communications
Emerging International Journalists Program
World Heritage