A Global Conversation with Vikram Dewan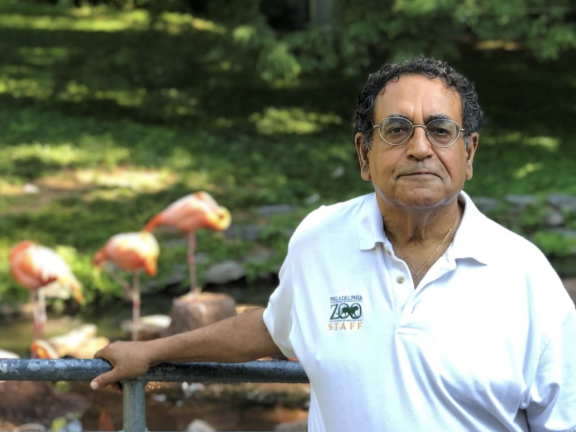 By Andrew Beers
Opened in 1874, the Philadelphia Zoo has been an industry leader in conservation and innovation for zoos around the world. For over 160 years, the Zoo has provided visitors with memorable experiences through their groundbreaking exhibits and inventive programming.
Since he joined the organization in 2006, President and CEO Vikram Dewan has been continuing the Zoo's efforts by bringing award-winning exhibits and programs to the Philadelphia Zoo. Over the years, the Zoo established renowned animal experiences such as the McNeil Avian Center, KidZooU, Big Cat Falls, Penguin Point, Outback Outpost and Zoo360. Dewan further expanded the Zoo's footprint by reinventing educational programming, youth and career development, and what it means to be a partner with the local community.
Before Dewan joined the Philadelphia Zoo, he served as President of Wachovia Bank's Philadelphia and Delaware region, operating nearly 100 branches and managing more than 1,000 employees. He currently serves a position on the Board of Trustees for Vanguard Charitable. After 16 years with the Zoo, Dewan has announced his retirement. He will remain in the position of CEO until his successor is named. After he retires, Dewan plans to use his 25 years of financial experience and his vast knowledge gained from the Zoo to connect philanthropists and social entrepreneurs with worthy social justice and environmental organizations.
Dewan is the Sustainable Development award recipient for the 2022 Globy Awards. In recognition of his award, Global Philadelphia Association had the opportunity to sit down with Dewan to discuss his 16+ year career with Philadelphia Zoo and the Zoo's innovative ideas towards sustainability and conservation.
Andrew Beers: With your financial background working with Wachovia Bank in the past, how did you find yourself working at the Philadelphia Zoo?
Vikram Dewan: It's not a traditional career path for sure. I think there is sort of a long answer to your question and a short answer to your question. The long answer is one I actually addressed in a TEDTalk some years ago, but the short answer is that I was pulled to Philadelphia Zoo because it represents so many important facets of what's important to our region–education, outreach, impact and community.
I think anytime you make such a dramatic career move, there are things that draw you in a new direction while at the same time there are other things that push you away from your current situation. What pushed me after 25+ years in the financial services industry was some degree of doubt around how the industry was aligned (or not) with my own personal values. I think for many of us, there comes a time in your life where you look forward and assess how many years you have left…and with that, you consider what's important. These 16+ years I have been with the Zoo have been absolutely the best years of my life and career. I have loved every single moment of it!
AB: What steps have you and the Zoo taken towards conservation and sustainability since you've joined?
VD: The Zoo plays a critical role around issues relating to sustainability and conservation, but probably the most direct answer to that question is that we take steps to walk our talk. When we design buildings or outdoor areas…when we design education programs…or when we think about our 160+ year old property, we are continually checking ourselves to make certain we are doing the very most we can to design and execute with sustainability top of mind. I would say the way in which we conduct our operations sustainably is very much at the core of who we are and what our mission represents–it is also good, smart economics. To be more energy efficient, to be thoughtful about water usage, to be deliberate about how you use natural resources…is just good business.
We have 42 acres, and we want to make sure all 42 acres are consistent with how we think about energy consumption, stormwater management, and trash/waste/recycling to name a few. And, when we build any new experience, we first look at how to reuse materials before buying new, how to maintain the integrity of the land, and how to use renewable energy resources like geothermal–all before we even get off the ground with design! Probably the most important reason why we push ourselves is because at our core, we are a demonstration site. We welcome 1.2 million visitors each year and it's critical that we "show" our message to every visitor of every age. If we can have our guests leave with even a nugget of information about what they can do in their own homes, their own businesses, and in their own lives, then we can multiply that out to see the effect we really have in a much, much bigger way.
Given our reputation and our work and partnerships around the world, the issues around conservation and sustainability take on extra meaning to us. We really believe the important piece is bringing people together to appreciate animals, wildlife and wild places. The harsh reality is that as every year goes by, awareness is shrinking and people are becoming more desensitized, so it's important that we share the story of what every single one of us can do to preserve the biodiversity of our planet and ensure we are good stewards of this world we all call home.
AB: Can you tell me how popular experiences, such as Zoo360 and Big Cat Falls, were developed and how they benefit the animals and visitors?
VD: First and foremost, it is incredibly important that everything we do starts with what's in the best interest of our animals. We are intentional about making sure each individual animal's life is enriching, engaging, and not routine. So, we design our habitats and operations to be tailored not only to the species of animal, but also to their personalities, likes and dislikes. The Zoo360 animal trail system is perhaps the best example of how we bring this to life. In many ways, we moved our model away from how you 'traditionally' design spaces for animals in a zoo setting and moved more toward a system which is not static, but is quite dynamic. What I mean by that is that we retreated from the idea that animals' spaces should be 'two-dimensional' and started thinking about them in three dimensions. By creating pathways and trails that go around, above, and throughout the Zoo, we've given animals places to traverse and explore–so now in some ways, the Zoo kind of moves around the people. It is entirely possible for an animal that has its home base at the north end of the zoo to travel south almost the entire spine of the campus to spend a day at an entirely different location. This is true for big cats, great apes, and for a number of other animals–it is incredibly engaging because it gives everyone a new and changing perspective on a regular basis. The animals engage with their environments differently, while our guests are fascinated because no two zoo experiences are ever the same. One day you might see a particular animal in one area, while the next time you visit, it will likely be in another location altogether. The whole network of trails completely changes the experience.
To add to this, there is a sustainability piece–it is phenomenally easier and less expensive to build trails than to build new habitats. It's easier to connect areas rather than build entirely new buildings or homes. So, we're able to create a very diverse set of experiential opportunities for both the animal and the guest while at the same time be thoughtful about our financial, campus, and organizational resources.
When we unveiled Zoo360 over 10 years ago, we were the first zoo in the world to do anything like it, and we had many watching to see if it would work. Now, a decade later, there are about 60 zoos worldwide that have adopted some variation of our system–we are proud to be the innovators and influencers in this sense. When you're the first to try anything, you are the one to experiment and figure out what works and what doesn't…it's an ongoing thing that we're constantly challenging ourselves with. We're continually thinking about new animal trails and how to continue to innovate–we have aerial/arboreal trails, terrestrial trails for our meerkats, and now an aquatic system for our otters. Ultimately, we want our visitors to emotionally connect with the animals that they're seeing, because engaging human beings and helping them understand the reality of what's happening in places here and around the world is our only shot at changing the course of where we're headed as a biodiverse planet.
AB: Are there any other future plans at the zoo focused on conservation or helping out endangered species?
VD: The next important element for us at Philadelphia Zoo is continuing to have the most diverse visitor base anywhere around. Animals make us human and connect us to one another in a way that few other things do. It's a great joy to see so many different people and families standing elbow to elbow taking it all in on our campus. What's interesting is where we are situated within the city–we are not in a tourist area, we are in West Philadelphia and as such, we have very much adopted the view that we can be a credible, impactful catalyst for change within the neighborhoods and in partnership with our neighbors. To us, it's an example of fulfilling our mission in a way that engages individuals and audiences in a significant way.
We are very real about how we do this and one of those ways is through being hyperlocal in our focus. We want to be very attentive to the neighborhoods and schools immediately around the Zoo–whether those are Pre-K to Fourth, or whether they are from Tenth to Twelfth grades. Our goal is to build long term relationships so that we become a true, reliable resource…schools to use us as a classroom, families to be part of our membership base, and people to be able to visit, even if they might not have the resources to do so.
We've launched several programs, including our West Philly Scholars Program that focuses on students in tenth grade all the way through their college years. The goal is to meaningfully increase diversity within the fields of zoology, conservation, sustainability and animal welfare. We see systemic barriers for people of color because for every job we have available at the Zoo on the animal care side, we receive hundreds of applicants, all with a long list of internship histories–most of which were done with no compensation. Let's face it, not a lot of people can accept full-time experiences with no pay. This natural economic barrier was favoring those able to take advantage of such opportunities, so now we are trying to break the pattern and open up the tributaries into our organization and the field as a whole.
On a more macro-basis we have a strong membership model which we've expanded to now include the five neighborhoods around the Zoo, giving families free access to visit at their leisure. And, we have created Community Nights enabling us to invite our neighbors over for special events created just for them. But perhaps what I'm probably most excited about is an idea that the community came up with themselves: we are exploring the possibility of situating a series of hydroponic farms in the community, made of repurposed shipping containers, to grow food under long term contract for our animals. By selling us food for our animals, this initiative has the potential to launch small businesses run by community organizations and individuals in the neighborhood. The idea is to use a key principle of sustainability…food that's grown locally means we're not shipping it from long distances. It's fresher, it's better, it's more nutritious, it's good business all around and it exemplifies the idea that we can all take part in the Zoo's mission and sustainability efforts. It's widely known that the five neighborhoods around us have among the highest poverty rates of all the neighborhoods in Philadelphia. So, if we're going to be a community partner that can make a systemic difference, it's going to be important that we do it in partnership with our neighbors as opposed to it being a one-way conversation. Hopefully our first hydroponic pilot project will be up and running in the first half of 2023!
AB: What would you say has been your proudest accomplishment during your time with the Zoo?
VD: I don't exactly know how to answer that, but it's been a wonderful 16 years and of course many things have happened during that time. It's easy to point to capital projects or big events and experiences that've been created…all of which are important, and I'm certainly gratified by their success. But, I think I'm most proud of helping shift how we think about our work and our impact as an organization. We're not in a place of believing that what we do is to go tell people how to save animals and habitats, because if you truly want to save wildlife and wild places, you have to do it by empowering people right here in our region. Our role is not to lecture, rather it's to partner with people to help them understand their role on this planet. Conservation is not something that only happens in another continent somewhere far, far away…we all have a part to play. Pollinators are crashing, bird migration is becoming a huge issue, changes in amphibian populations are having a significant impact even within urban environments. Regardless of if you live in the city, suburbs, or rurally, we are finding people are not as attuned to issues around what is happening and how to be part of the solution.
We started this conversation with what brought me to Philadelphia Zoo. I think what aligns so closely with my personal value system is the way in which we have expanded our organizational value system to unify issues around environmental impact with those of social justice–we are uniquely the place where those two things intersect. At the end of the day, we're a small organization with a very loud megaphone and I think what we've done really well is bring visibility to issues that perhaps others can't. Whether they're the issues around saving our planet or issues around diversity and inclusion or systemic barriers, we are walking our talk and every one of us is very proud of that. Our job is to elevate the very best of Philadelphia and to challenge ourselves to continually make a big difference and serve as a model for the rest of the world. That's how we see ourselves as the Philadelphia Zoo.
Topic
SDG Campaign
Emerging International Journalists Program
Global Conversations
Environment
Science and Technology