A Global Conversation with Judith von Seldeneck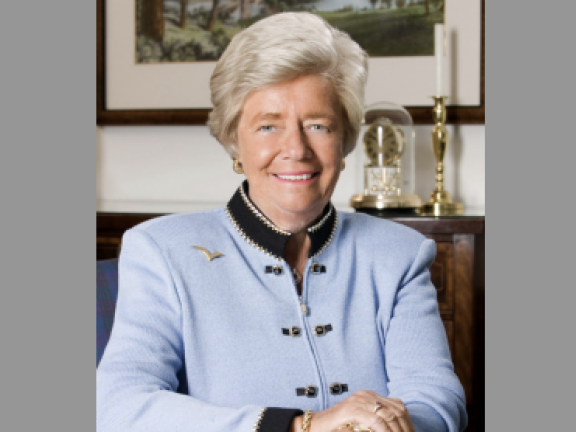 Global Philadelphia had the opportunity to speak with Judith von Seldeneck, who is being awarded the Lifetime Achievement Award at this year's Globy Awards. She is the Founder and Chair of Diversified Search Group, one of the top ten executive search firms in the nation.
Before moving to Philadelphia, von Seldeneck began her career as an executive assistant to then-Senator Walter Mondale in Washington, D.C. She then moved to Philadelphia where she has been successfully helping clients find leaders since 1974. Over time she has served on the boards of Citizens Financial Group, Tasty Baking Company, Teleflex, Inc., CoreStates Financial Group, Meridian Bancorp, and AAA MidAtlantic. She was only the second woman to serve as Chair of The Greater Philadelphia Chamber of Commerce and was Chair for the Philadelphia Chapter of the National Association of Corporate Directors. She also founded the Forum of Executive Women, the largest association of women business leaders in the Philadelphia region, and recently created the JVS Philadelphia Fund for Women Entrepreneurs, designed to support the increase in women entrepreneurs by providing direct grants for both startups and early-stage companies with strong growth potential.
During her career, she has been the recipient of multiple awards and accolades recognizing her achievements both professionally and philanthropically. This year she was named in the 2022 Forbes 50 Over 50 Entrepreneurs list, highlighting groundbreaking women who are making an impact and have achieved remarkable success in their careers. She has received the William Penn Award, the highest honor bestowed by the business community of Greater Philadelphia, the Drexel LeBow Business Leader of the Year Award, one of the most prestigious honors in the Greater Philadelphia region, and the Association of Executive Search Consultants' Eleanor H. Raynolds Award for Excellence in Executive Search. She was designated as one of BusinessWeek's Top 50 Most Influential Executive Recruiters in the World and was inducted into the Philadelphia Business Hall of Fame. Most recently, von Seldeneck was the recipient of the Most Admired CEOs Lifetime Achievement Award by the Philadelphia Business Journal.
Andrew Beers: Before moving to Philadelphia and starting your role in executive search in the 1970s, you were raised in North Carolina and worked in Washington, D.C. What did you initially see yourself doing with your career before Diversified Search?
Judith von Seldeneck: I graduated from the University of North Carolina. During that time, women were either teachers, nurses or secretaries. All my sorority sisters went to Atlanta to find husbands and I went to Washington, D.C. At the time, I majored in political science. I was never too great at my other subjects, especially math, but I excelled in political science, which is what drew me to Washington. I ended up working in the area for 10 years for U.S. Senator Walter Mondale as his executive assistant. This was during very important times: The war in Vietnam and the Civil Rights Movement in the mid '60s to the early '70s. When the Senate was in session I had to be there, so I attended law school at night for a year. I hoped law school would be a path toward a career beyond secretarial work.
In the early '70s I got married and moved to Philadelphia. I thought I would continue in the political world because that was my background, but after working for Mondale I didn't feel I could work for anyone else. I didn't know what I was going to do until a friend called and told me they started a business to find part-time jobs for women and asked if I wanted to be involved. The business began under a job-sharing model: One woman would work in the morning and another woman would work in the afternoon to allow them time to care for their children. Then I saw an opportunity for this business to expand into helping women find full-time jobs, because during that time many government contractors and companies in Philadelphia were pressed to hire more employees, especially women.
I soon bought out the other three women I was working with and started meeting with government contractors and companies in Philadelphia. I told them, "Tell me about your jobs, and I'll help you find women for the positions." That's how Diversified Search started in 1974.
I realized that having my own business and having the freedom to create my own path really appealed to me. The timing was right, the city was right, and the community was right.
AB: Why did you choose to keep Diversified Search's headquarters in Philadelphia? Why didn't you choose New York City or Washington D.C.?
JVS: My husband worked at Philadelphia National Bank, which is why I moved to Philadelphia. I was in the right place at the right time when Diversified Search was beginning, and it was good fortune that it happened to be in Philadelphia.
Over the years I've been quite active in the community. I had the opportunity to serve as Chair of the Greater Philadelphia Chamber of Commerce, and I've participated on many boards. I love this community and it's been very welcoming. You're talking to one of the City's greatest cheerleaders, and I feel very fortunate to be able to continue my involvement within the community today.
AB: What major goals did you set in the past for you and Diversified Search, and how did you achieve those goals over the years?
JVS: I'd like to say I had this great vision and this great plan, but I kind of went along with Diversified Search as it evolved. I always believed in this company, and the idea of finding women better positions in the workplace had strong growth potential. So, I wanted my employees to make more money here than anywhere else. I wanted it to be a place where employees were proud to work, where we collaborated and had shared interests and values, like a family. That's something that I've tried hard to preserve, even as we've grown considerably.
AB: In partnership with AltoPartners, Diversified Search has offices in over 30 countries. Can you speak briefly about how that global partnership began and the global impact Diversified Search has had throughout the world?
JVS: We're part of an international partnership with AltoPartners. We have a Board of Directors and offices in more than 30 countries and 60 cities globally. They're all independently owned, and everyone pays a fee to be part of this alliance.
When we started this global expansion, it was at a time when I had decided to re-purchase Diversified Search after it had been sold to a larger public company. I knew we needed to achieve scale and the global platform to compete with other search firms. This global presence allowed us to level the playing field. It was an eye-opening learning experience to see how executive search is done all over the world. International expansion gave us an edge and the ability to pursue many Fortune 500 companies as clients.
AB: Besides your work at Diversified Search, what major accomplishments are you most proud of?
JVS: I've always believed you can have it all, and I have been fortunate enough to build a successful business, have a family and hopefully create a lasting impact for my community and women in business who will come after me.
I have two kids, and I'm thankful that I've never missed a beat. I've been married for 50 years, I have wonderful friends and family, and I've been able to focus on my career as an entrepreneur. It was so important for me to be able to do it all! I think being an entrepreneur is a great career path for women. This is the reason I created the JVS Philadelphia Fund for Women. I've realized that one of the most important reasons it took so long for women to be successful was because of the barriers we faced in accessing capital. I feel so grateful at this point in my life to be able to help and give back in ways that weren't available to women of my generation. Our goal is to support women with capital, resources, and help with growth strategies so they can be successful entrepreneurs, make an impact, and contribute to their communities.
The fund distributed nearly $700,000 during the first round of applications. The goal is to support businesses with growth potential but also those that are actively involved in the community. It's been very rewarding to support women who don't have the financial backing to start or grow their businesses.
I'm also extremely proud of the growth and impact of Diversified Search Group. It was a lot of fun getting this firm started and to see how women rose to the occasion, took on leadership roles and did phenomenal things in their positions and careers. Now, Diversified Search Group has become the largest woman-founded and woman-led firm that is identifying the leaders that are transforming businesses and helping them grow and meet the demands of today and the future.
AB: What are some words you can provide to young leaders, especially female leaders, as they begin their careers?
JVS: It's important to think about what you want to do in life. The more homework you do, the better the chances you have at finding something you love. Your career should be something you want to be doing; something you're passionate about.
Also, it's important that the people you work with are those you respect, and who also respect you. If you can have fun with your colleagues, all the better. Work has always been such fun for me, and I can't wait to get up in the morning and get to work! I love everyone at Diversified Search Group, and I am passionate about what we do. I love our clients and the feeling of being a team. As you're looking for a job, it's important that you get a sense of who you're going to work for. Can you trust them? Can you talk with them? Can you discuss career goals and opportunities with them? Success in the business world is about taking risks, but it's also about relationships and connecting with the people you work for as well as the organization.
Topic
Business and Commerce
Emerging International Journalists Program
Global Conversations