Feeling the vybe at SDG #3 Unveiling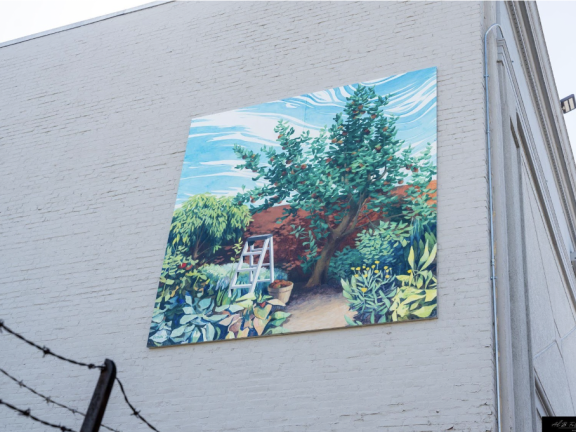 On April 13, Global Philadelphia Association held its unveiling event for Sustainable Development Goal #3: Good Health and Well-being. Renowned local muralist David Guinn created the stunning mural displayed outside of Vybe Urgent Care on Market Street. Sponsored by Vybe, the mural showcases a garden corner with leafy plants and a white ladder, symbolizing the hope for improving the health of millions of people.
The event was attended by prominent figures such as Peter Hotz, CEO of Vybe, Zakkiyah Boone, CEO of Wonderspring, and Amy Mansky, Director of Advancement at MANNA. During the unveiling, speakers highlighted the need for increased attention to nutrition, health and medical services. Afterwards, MANNA, an organization using nutrition to improve the health of people with serious illnesses, was given a grant for $3,000 from GPA to continue efforts towards helping individuals restore their health and well-being.
SDG #3 aims to ensure healthy lives and promote well-being for all ages. The COVID-19 pandemic caused unprecedented
human suffering, destabilized the global economy, and upended the lives of billions of people worldwide. Despite significant progress in improving the health of millions of people, more work is needed to eradicate diseases and address emerging health issues. By increasing access to physicians, improving sanitation and hygiene, and providing more efficient funding for health systems, progress can be made in achieving SDG #3. The mural reminds us of our collective responsibility to work towards a healthier and more equitable world. It serves as an inspiration for everyone to take action toward achieving SDG #3.
In May and June, GPA will hold more SDG Unveiling events, including SDG #8, SDG #9, and SDG #17. GPA plans to continue collaboration with Philadelphia organizations to promote SDGs in the future, which is a step towards creating a healthier and sustainable future for all.
---
Topic
SDG Campaign
Emerging International Journalists Program