Exploring World Heritage Cities: Amsterdam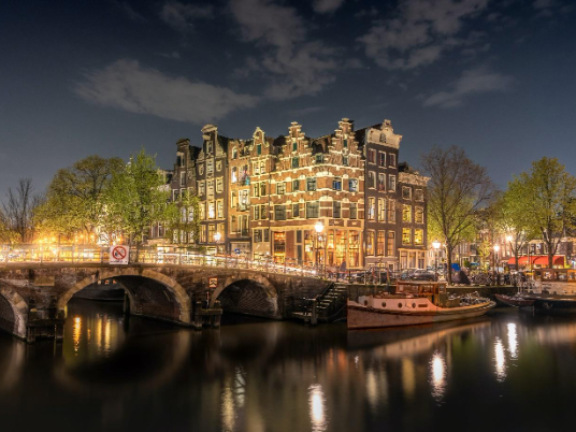 By Grace Elizabeth Hackney
Five years ago, I had the pleasure of visiting Amsterdam for a week during my spring break. While I was expecting this city of clogs and tulips to be fast paced like other European cities I've visited, I found that Amsterdam was very peaceful– with the exception of the bike lanes.
The connecting canals that carry locals and tourists alike are the center of world heritage for this city. When gently riding through the canals, you can witness the delightful 17th century architecture in this uneven city. Because of the historical and cultural significance of the canals, UNESCO declared them a World Heritage Site in 2010. If you plan to visit Amsterdam, then a canal tour should be a vital part of your stay.
Amsterdam's cobblestone streets are paved with a great history. The Anne Frank House and Van Gogh Museum are just two examples of the many culturally enriching and beautiful places to enjoy in this World Heritage City. The Van Gogh Museum not only features a large portion of Van Gogh's work, but it also features work from other well-known European artists such as Claude Monet and Paul Gauguin. The Van Gogh Museum is located in Museum Square, a lively location with many other museums that cater to local Dutch artists.
Don't let scarfing down Stroopwafels and the tulip carts distract you from the plethora of other local businesses Amsterdam has to offer. There are lovely antique stores and clothing retailers tucked away in between the narrowed streets that many tourists can miss, therefore it is crucial to try to explore less visited areas for the best souvenir shopping results. However, one of the most identifiable commodities is clogs. No, you will not see the local Dutch wearing clogs on a day-to-day basis, but clogs are a fun element of this rich culture. There are many hubs to window shop, learn how clogs are made, and even purchase a pair for novelty purposes.
Amsterdam is full of delicious food, great local business, provocative nightlife and a pleasantly unique culture. Unlike most northern European cities, this World Heritage City has an easy-going change of pace. Still, Amsterdam is only a train ride away from other popular European cities, so it can be visited for a nice day trip or be explored as the center of your European travels.
Topic
Emerging International Journalists Program
Arts and Culture
Hospitality and Promotion
World Heritage