Constructing the Future of World Heritage Sites for Youths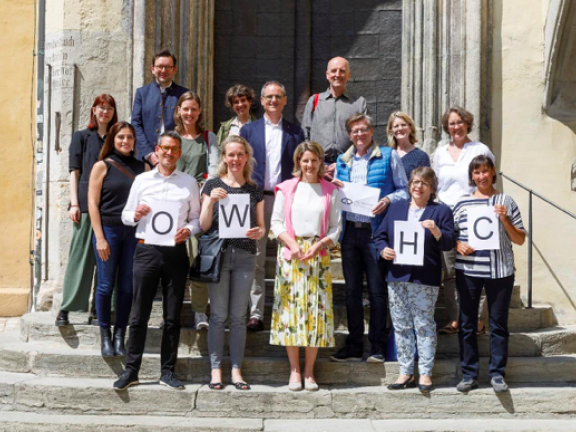 By Aaron Stoyack
The Organization of World Heritage Cities is a collection or 250 cities, each of which contain a UNESCO World Heritage Site. Regensburg, Germany hosted an OWHC training course on "Design Thinking Tools" from May 9 to 11. Ten participants from nine OWHC member cities - Augsburg, Bruges, Budapest, Philadelphia, Quedlinburg, San Antonio, Stralsund, Vienna and Vilnius - attended an inspiring and creative course. The Regional Secretariat for Northwest Europe and North America expressed gratitude at welcoming delegates for the first in-person meeting after two and a half years. The workshop is held annually in Regensburg but was in a virtual format during the height of the coronavirus pandemic.
Representatives from each of the World Heritage Cities joined trainer Phil Stauffer from Berlin in a series of collaborative exercises. These were focused around the "challenge" of attracting and educating young people on the value of World Heritage Sites and the importance of their preservation. The Design Thinking Toolbox was used to illustrate potential practices during various discussions. The Design Thinking Toolbox is a book which serves to foster transformative ideas in innovation and leadership. Attendees lauded the aid of the program and the new abilities it provided.
GPA's Executive Director, Zabeth Teelucksingh, reported, "The regional secretariat training course was a hit! We reconnected, we shared stories and we thought about the future. Specifically, how to connect a greater number of youths to World Heritage. Using Design Thinking, we came up with many ideas and finally two concepts – a socially interactive game and treasure hunt through a City Hall and Grandma's Heritage Memory Box. Stay tuned!"
The OWHC training course in Regensburg has a storied history in its ability to profoundly impact World Heritage representatives. With luck, the knowledge gained from this course will provide them with the tools to expand the audience of World Heritage Sites to countries around the world. By engaging and emphasizing the role of young people, these delegates hope to instill the next generation with a passion for the protection of our planet's natural and cultural wonders.