Celebrating Philadelphia's World Heritage City Status: Honoring Michael A. Nutter and Promoting Global Connections
This year's World Heritage City Celebration (WHCC) was a lively and rewarding event for the Global Philadelphia Association (GPA) and its guests. After months of planning and hard work, GPA presented the event at the Crystal Tea Room in Philadelphia, a treasured Philly National Historic Landmark. The occasion marked the celebration of Solidarity Day of World Heritage Cities, a day in which all world heritage cities are invited to celebrate once a year with the Organization of World Heritage Cities. Global Philadelphia honored our World Heritage City by recognizing former mayor and City Council member, Michael A. Nutter, to whom GPA presented the Globy Award for Distinguished Global Leadership.
As the major honoree of the night, Nutter treated guests to a deep and revealing fireside chat with famed Philadelphia anchor, Jim Gardner. The two discussed topics such as the history and image of the city, its involvement in the international community, and the significance of Philadelphia being the first American World Heritage City. Nutter had specific insights into what makes Philadelphia so unique and why it should be alluring to the international community, and his passionate descriptions enticed the crowd and drew many rounds of applause.
"We make stuff happen. We build things, we create things," explained Mayor Nutter. "We have reinvented ourselves time and time and time again. If you want to be in Nirvana, go to heaven. If you want to be in a real city, you should be in Philadelphia."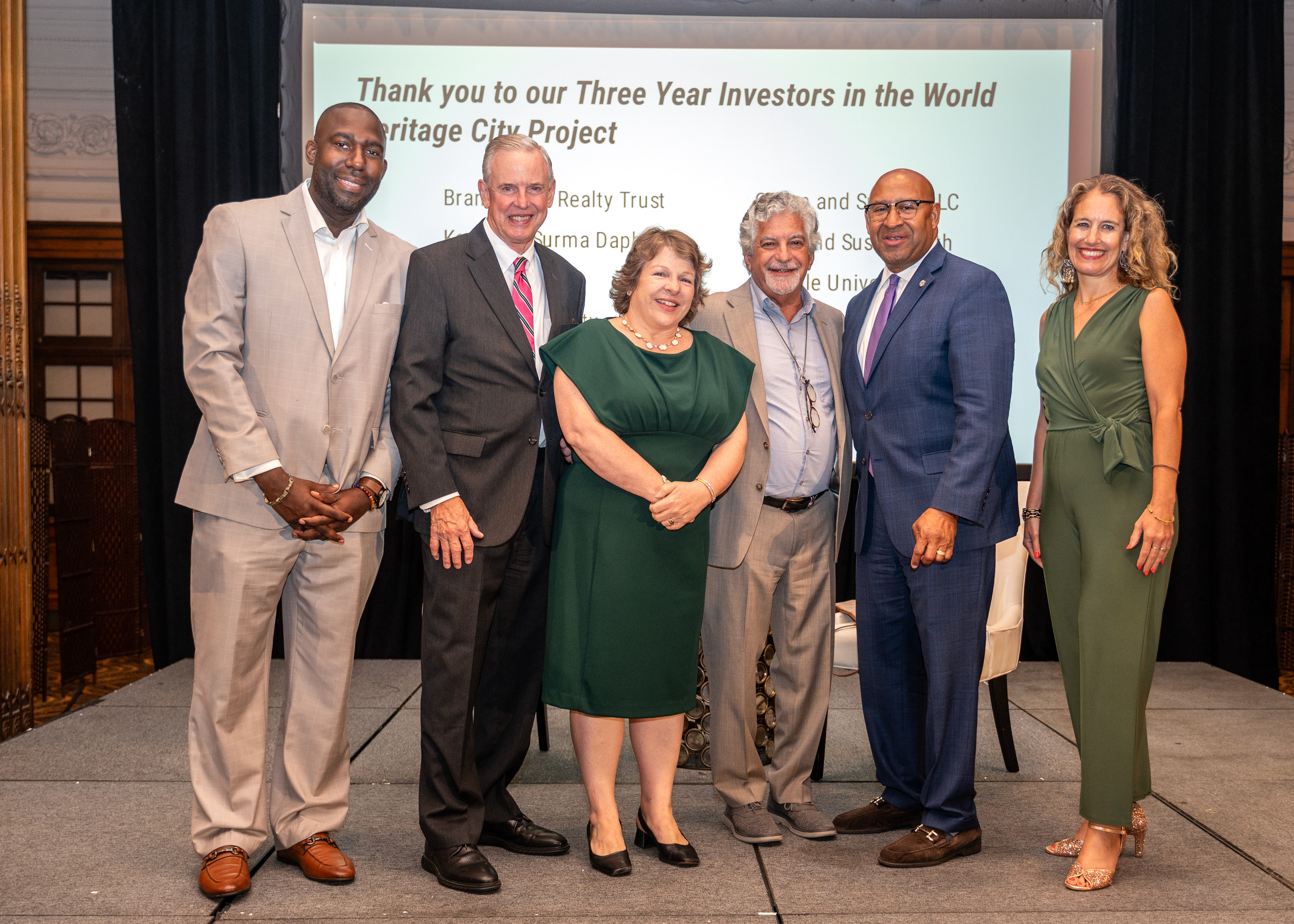 The interview also showcased the former mayor's deep connection to the city and his genuine personality, as he told relatable stories and offered amusing quips in response to Jim Gardner's questions or comments. Nutter made sure to leave the audience with his most important thoughts: although he was no longer an official public servant, he would never stop serving the public and working to improve the city that he, and so many others, love and call home. He is active in civic life, public policy, and government, particularly through his roles as Professor of Professional Practice in Urban and Public Affairs at Columbia University's School of International and Public Affairs and as a fellow at the University of Pennsylvania, the University of Chicago, and Harvard Kennedy School Institute of Politics.
After the one-on-one interview, GPA presented Michael A. Nutter with the Globy Award for Distinguished Global Leadership for his contributions to the city. This award signifies the success of the awardee in involving Philadelphia in global conversations and attracting people from across the world to the city. It has only been awarded one other time in the past, and the awardee is selected by GPA's Globy Selection Committee, composed of Philadelphia leaders and professionals.
In addition to the captivating fireside chat and award ceremony, the WHCC featured speeches from distinguished leaders and those who partnered with GPA, such as the Young Professional Co-Chairs and the Co-Chairs of the WHCC. They were able to share their stories, projects they are working on, and their diverse experiences that led them to love Philly and call the city home.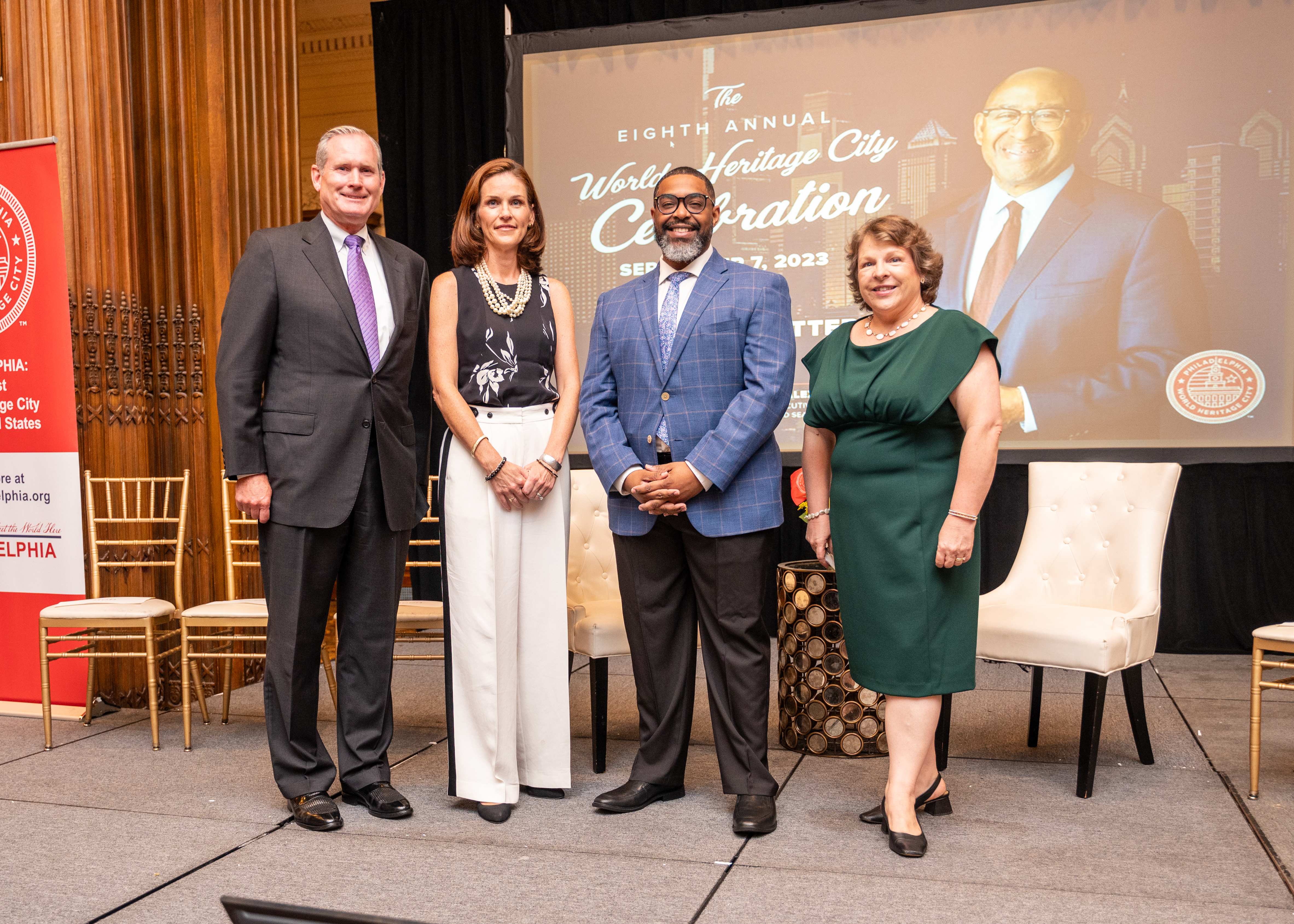 "It is an honor tonight to be on this stage, where my global personality is colliding with my love of city planning and the city of Philadelphia," shared Young Professional Co-Chair, Christina Arlt. "We have done so much together to preserve Philadelphia's heritage and also create a connected, global city."
The Young Professional Network (YPN) had a notable presence at the event, as the Co-Chairs spoke and a few members of the program were in attendance. The YPN seeks to create networking opportunities and serves as a collaborative team of GPA affiliated young professionals who are looking to take their talents to new heights in their careers and see what Philadelphia has to offer. The World Heritage City Celebration was a significant professional event for those in the program to attend.
For entertainment, GPA was proud to host impressive performers that represented their own cultures. Chinese musician Qian Qin greeted guests with lovely erhu music as they entered the event, and the Afro-Zillian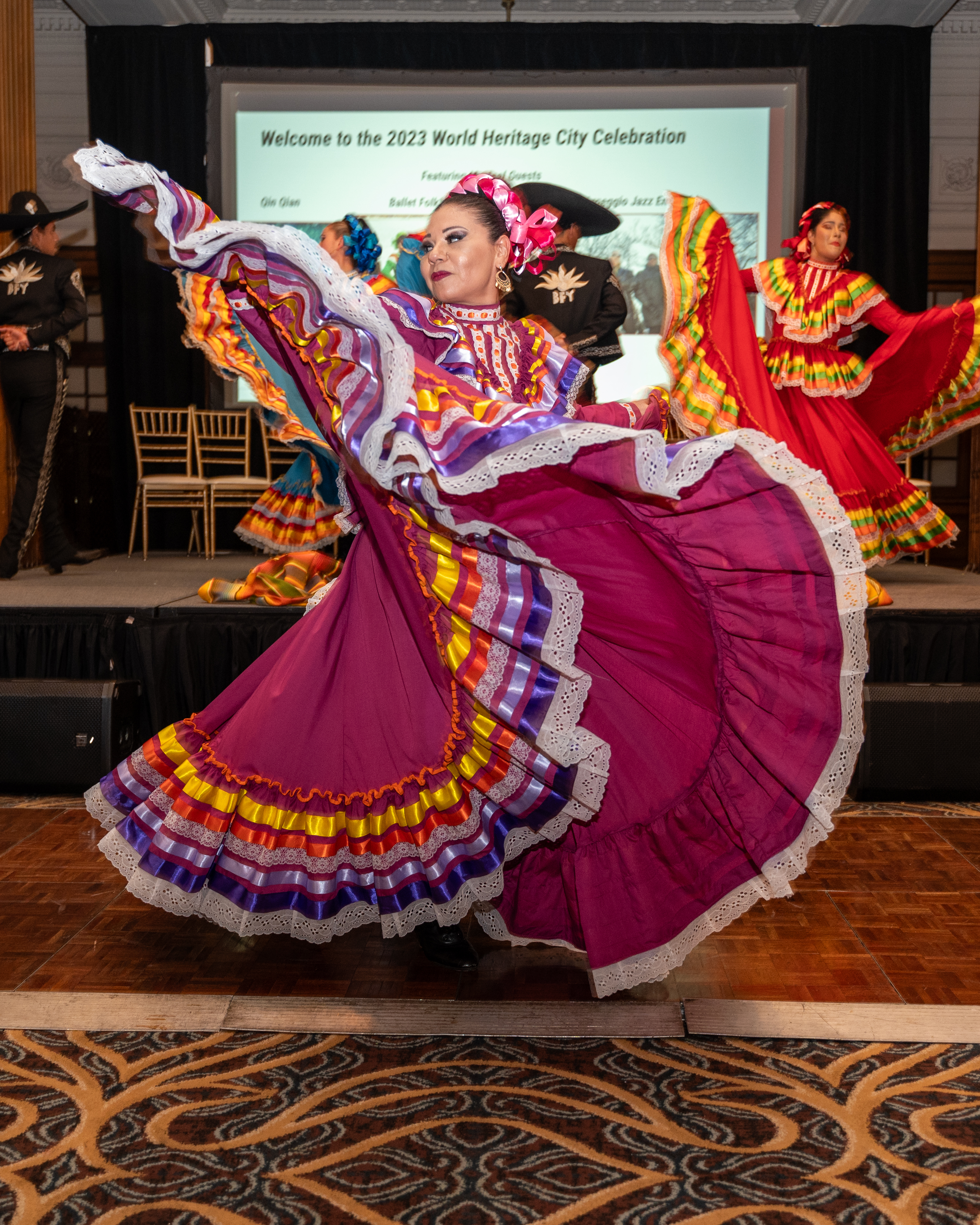 Arpeggio Jazz Ensemble provided upbeat songs while members of the diverse Philadelphia community networked and celebrated world heritage. After a portion of the presentations concluded, dancers from The Ballet Folklorico Yaretzi (BFY) took the stage and treated guests to a stunning performance to represent and celebrate Mexican culture.
With the installation of numerous presentations and visuals around the Crystal Tea Room, GPA sought to offer guests a global and comprehensive view of the four pillars of World Heritage. Furthermore, GPA informed guests about current work and plans for the future that encompass these pillars, especially by giving them the opportunity to get a personal look at GPA's Sustainable Development Goals (SDGs) initiative involving beautiful, local artwork. These murals are displayed all over the many neighborhoods of Philadelphia, and seeing them all together was quite striking and inspiring.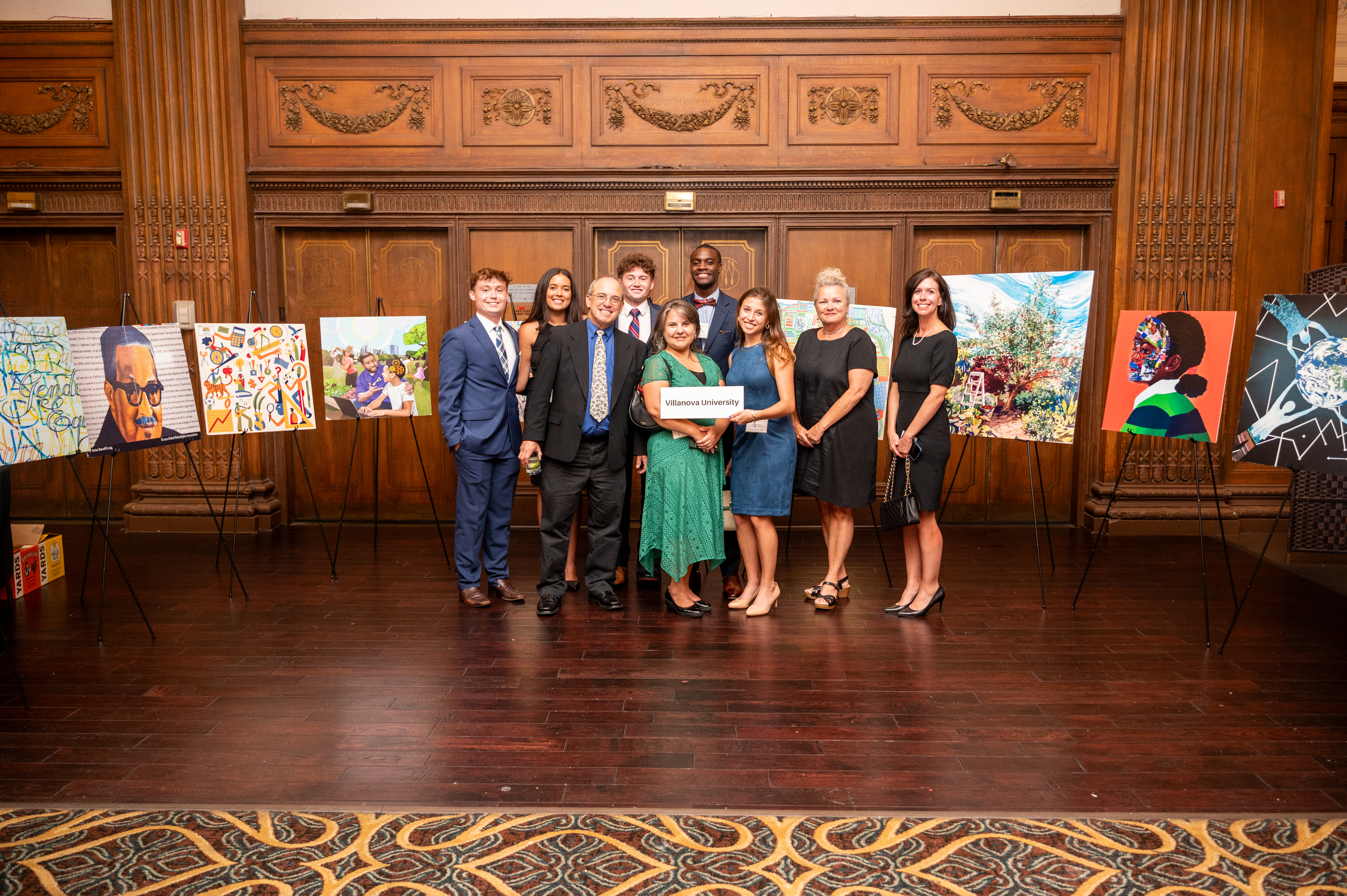 GPA not only focused on Philadelphia, but also significant international occurrences, such as the United States rejoining UNESCO earlier this year. This development is particularly significant for Philadelphia as a World Heritage City, as UNESCO is a key leader in protecting World Heritage and connecting the international community.
Held in Center City Philadelphia, the event brought together Philadelphia professionals and those with a common interest in world and cultural heritage, while also providing a look into GPA's work and Philadelphia's growth as a World Heritage City. The money raised from the celebration will be integral in working towards GPA's goals and expanding global reach in Philadelphia, all thanks to generous sponsors and dedicated community members.
"It was great to attend Global Philadelphia Association 8th World Heritage celebration- honoring former mayor Michael Nutter. He was instrumental in Philly becoming the First U.S. World Heritage City," shared Numa St. Louis, District Representative and Policy Advisor at the United States House of Representatives.
GPA is hoping to grow the event and reach more community members in the coming years, and to continue sharing the importance of world heritage through immersive experiences.
Thank you to everyone who was able to attend.