Bruges, Beer, and World Heritage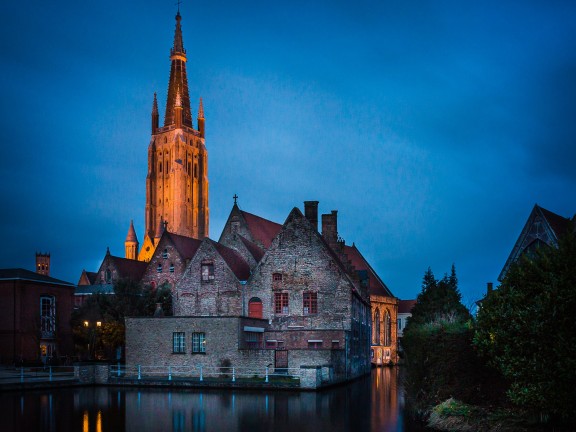 By Chloe Hunt
As a designated UNESCO Historic Centre, Bruges, Belgium is famous for its stunning architecture and rich culture, but what is especially interesting about this medieval city is its beer culture.
UNESCO designated Belgian beer culture as Intangible Cultural Heritage in 2016–this accolade serves to acknowledge inclusive, representative, community-based, traditional, contemporary and living practices or cultural manifestations.
Visitors strolling through Bruges will notice scenic canals, Gothic architecture, and historic towers, but one would not know that beer is flowing underneath the streets.
Bruges actually has an underground beer pipeline. This pipeline stretches over two miles and can pump beer at over 1,000 gallons per hour. This allowed Bruges to preserve its beautiful, medieval atmosphere with cobblestone streets while simultaneously bringing "liquid culture" into the city.
This beer pipeline not only preserves the cultural environment– it helps the environment. This method of beer transportation also cuts down on carbon emissions and makes Bruges less congested.
The pipeline also allowed for the famed local brewery, De Halve Maan, to remain connected to Belgium. As a family business of six generations, De Halve Maan brews the Brugse Zot, a strong, spicy golden beer.
Beer is undoubtedly a part of Bruges' culture. The city hosts an annual beer festival, dating back to 2006. In its current state, this festival hosts 80 different breweries and roughly 20,000 people. This event is charitable as well–Trappist beer, brewed by Trappist monks in Belgium, do not profit off of their creations. Instead, this money goes towards charity and the monastery.
Bruges has also made efforts to make its beer more sustainable, aligning with Sustainable Development Goal #11: Sustainable Cities and Communities. This has included new agreements between small farms and breweries to ensure that no pesticides or chemicals would be used that could pollute the groundwater.
Bruges' next beer festival is set to take place in June 2023. For more information about the event, check out this link.
Topic
Emerging International Journalists Program