2022's One Book, One Philadelphia Choice: My Broken Language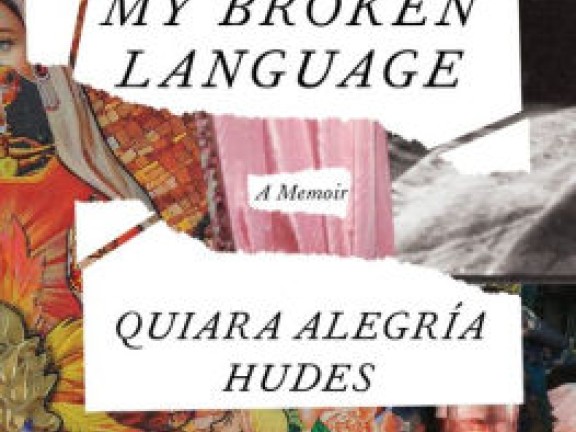 By Jessica Barber
Quiara Alegría Hudes boasts many accolades: Yale graduate, award-winning essayist, playwright for sold out Broadway and local masterpieces, composer, pianist, and so much more, but first and foremost, she's a "West-Philly-born-and-bred language grrrl." Chosen for the One Book, One Philadelphia Award, Hudes' Pulitzer-prize winning memoir My Broken Language has been hard to find on the shelves of Philadelphia bookstores because of its popularity and "can't put it down" quality of prose, humor, and self-reflection. To put it simply, she's the writer Philly has been waiting for.
When people come to visit Philadelphia, they head straight to Center City. As Hudes wrote, they want to see the loafers of Rittenhouse and the flip-flops of Chinatown. Streets are clean, sidewalks are lined with trees and shops, and the big, small-town city is as beautiful and unproblematic as the tourist flyers. North and West Philadelphia, the focal point of Hudes' memoir, paints a different reality that embodies the many identities that go above Girard Avenue and past the pristine University City campuses.
Two neglected regions of the city have finally found their home in the pages of My Broken Language. Susquehanna Avenue suddenly doesn't seem as bad as the news makes it out to be and the train tracks that run through West Philly become an oasis for an avid reader seeking solitude and clarity as she juggles a family life that splits her sense of identity down the middle.
A self-identifying "Philly-Rican," Quiara Alegría Hudes grew up in a family full of matriarchs. Her mother, little sister, abuela, cousins and aunts, scattered all over North and West Philly up into New York City, provided a feminist kaleidoscope of history, humor, music, love, spirituality and support in an adolescent environment that was in constant flux. She first lived in the all-white suburbs surrounding Philadelphia and then bounced between her mother and abuela's homes speaking what she called "Spanglish." Trying to be two people at once, the evolution of Hudes' story in her memoir follows this endless push and pull of emotions on a tightrope of belonging. Philly won her identity's tug of war. Eloquently detailed in each line, My Broken Language spells out what it means to grow up in a diverse city that is riddled with many problems but is also uplifted by the love and sense of community that families like hers created.
In keeping the spirit of this community and continuing the tradition of familial activism, "Hudes has created an exceptional body of work, at once lyrical and colloquial, playful and spiritual, which often portrays wounded people on the margins (addicts, abuse survivors, disabled veterans, abandoned children) and creates spaces (a dive bar, a chat room, a road trip, a soup kitchen) where they can start to heal each other." While Hudes has accumulated all of the aforementioned accolades on her impressive resume, she remains humble and grounded in her roots, admirably proud to be from a city that doesn't always get the best rep.
She has been able to amass such an incredible list of works by giving language to the stories that were on the cusp of disappearing. These are stories not often told - the history of her family's indigenous roots in Puerto Rico, the impenetrable fortress of Yale's wealth and prestige that casted those who grew up like her to peripheral low-paying campus jobs, the Philly AIDs epidemic she bore witness to as it ravaged her family and inspired her mother's activism, and the ways in which these stories of struggle are harmfully manipulated by those outside of her community beyond the West Philly train tracks, some of whom were in her own family.
A thoughtful, funny, carefully-detailed portrait of heritage and self-discovery, My Broken Language is brimming with a life force that doesn't fit into the arch of a conventionally neat narrative. Once a quiet escape for a confused and growing young student named Quiara Alegría Hudes, The Free Library is now proudly celebrating a book of her own many years later.
Global region
Central America/Carribean
North America