Sustainable Development Goal #17: Partnerships for the Goals
Artist Isabelle Cress created an intricate work to laud SDG #17: Partnerships for the Goals. The detailed mural is installed at Cress's grade school alma mater, St. Mary's Interparochial School.
The work uses natural imagery of vines and leaves connecting people across the globe. Insets illustrate the fruits of partnership, while a meditative figure seems to guide the process.
Cress is an illustrator, creative writer, and graphic designer from Philadelphia. Her illustrations revolve around fantastic, supernatural, spiritual, and mythological themes.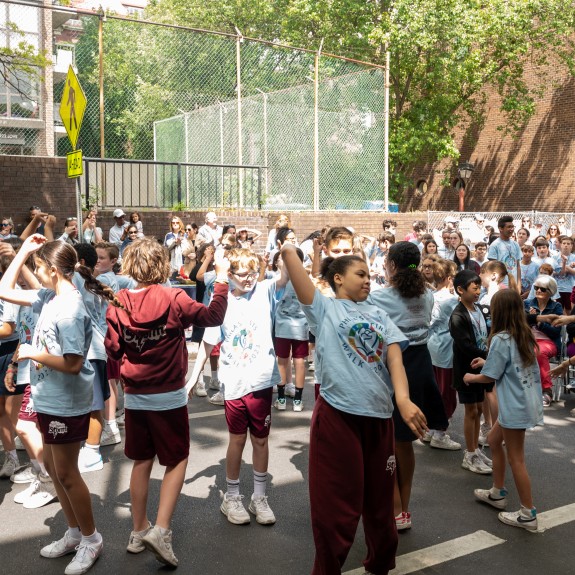 Local Impact
The unveiling of the mural was a significant day for the St. Mary's community, with visits from local dignitaries and student performances.
Each mural project contains a grant awarded to a deserving organization doing related work.
The mural sponsor and host St. Mary's chose to award the grant to the Ronald McDonald House Charities of the Philadelphia Region. The organization supports families of seriously ill children by creating a community of comfort and hope.
Partnership for the Goals
Global Context
Progress towards achieving SDG17 has been mixed, with some advances in development aid, remittances flows, and access to technology. However, funding for development remains a major challenge, especially in low-income countries, and geopolitical tensions hinder international cooperation. The growth in government revenue and tax burden has fluctuated, impacting government expenditure. Net ODA flows have increased, but they still fall below the 0.7% target. Debt levels in low- and middle-income countries have reached record highs, impacting economic growth.
Internet usage has increased, but gender disparities persist. Fixed-broadband subscriptions have grown but remain limited in low-income countries. Environmentally Sound Technologies trade has increased, while tariff averages have slightly declined. The share of LDCs' exports in global trade has not doubled as targeted.
National statistical legislation and planning have made progress, but limited funding and capacity challenges persist. International funding for data and statistics has decreased since 2018. Concerted action is needed to ensure financing and technology access for SDG implementation and to overcome the existing challenges.
Source: United Nations' Sustainable Development Goals, SDG#17 Partnerships for the Goals.