Sustainable Development Goal #16: Peace, Justice and Strong Institutions
The SDG #16 mural celebrates Peace, Justice, and Strong Institutions. Noted artist Rusell Craig chose to represent Peace, Justice and Strong Institutions with a portrait of legendary U.S. Supreme Court Justice Thurgood Marshall. The inspirational work is installed at Project Home's Women of Change apartments at 2042 Arch St.
The Harry and Catherine Halloran Family Trust sponsors award-winning artist Russell Craig's project. Mural Arts explains that Craig's work "combines portraiture with deeply social and political themes."
Russell Craig is a self-taught Philadelphia-based artist. Craig became involved in Mural Arts Philadelphia's Restorative Justice Program and later joined the organization to paint murals in under-resourced communities. He continues to collaborate with Philadelphia Mural Arts as a muralist, teaching art to court-involved youth.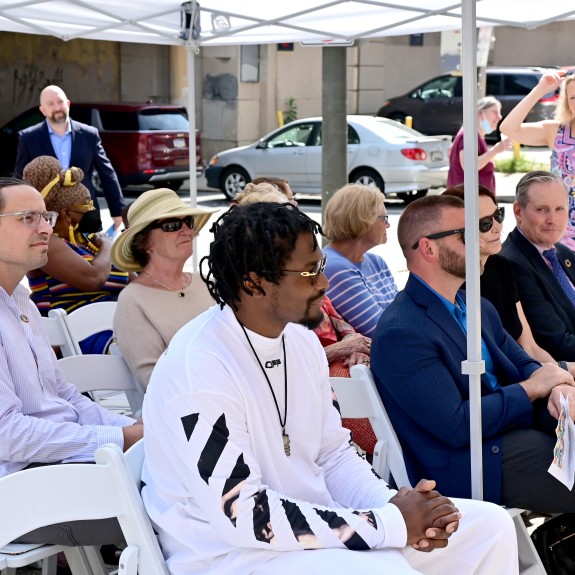 Local Impact
The mural featuring Thurgood Marshall was unveiled on Juneteenth, the Federal holiday commemorating the end of slavery. Artist Craig spoke at the event, revealing that Marshall's life inspired him to reach his goals.
Each mural project contains a grant awarded to a deserving organization doing related work.
Project HOME is the grant recipient for SDG Mural #16. Project HOME has worked for over 30 years to end chronic street homelessness and alleviate poverty in Philadelphia.
Peace, Justice, and Strong Institutions
Global Context
The world faces significant challenges in achieving SDG 16, as violent conflicts, crime, and injustice continue to disrupt peace and progress. Homicide rates have risen, civilian deaths in armed conflicts have increased, and feelings of safety in communities remain stagnant. Children are still exposed to violence at home, and human trafficking remains a concern, exacerbated by the impact of COVID-19.

Sexual violence against children is prevalent in some regions, and access to justice for all, including prisoners and detainees, remains a distant target. Corruption and budget deviations erode trust in institutions, and underrepresentation of young people in parliaments raises concerns about inclusivity.

Furthermore, millions of children lack legal identity registration, hindering their access to services and protection of their rights. While progress has been made in adopting access to information laws, much work remains to be done to achieve SDG 16 and foster peaceful and inclusive societies.


Thanks To
GPA celebrates the contributions of the project sponsor, The Harry and Catherine Halloran Foundation, and the artist Rusell Craig. Congratulations to mural host and grantee Project Home.
Reinforcing its commitment to peace, justice, and strong institutions, The Harry and Catherine Halloran Family Foundation simultaneously gave a grant to Project HOME to support their work in breaking the cycle of homelessness and poverty and alleviating the underlying causes of poverty.