Sustainable Development Goal #1: No Poverty
Noted Philadelphia artist Gabe Tiberino created the mural for SDG #1: No Poverty, now installed in the Park West Town Center, 1575 N. 52nd Street at Jefferson.
The colorful piece raises awareness of the issue, inspiring visits from teachers and their classes and provoking thoughts among neighborhood residents running errands.
Tiberino is a graduate of the High School for Creative and Performing Arts and the prestigious Pennsylvania Academy of Fine Arts. He has worked with Philadelphia's Mural Arts Program for many years.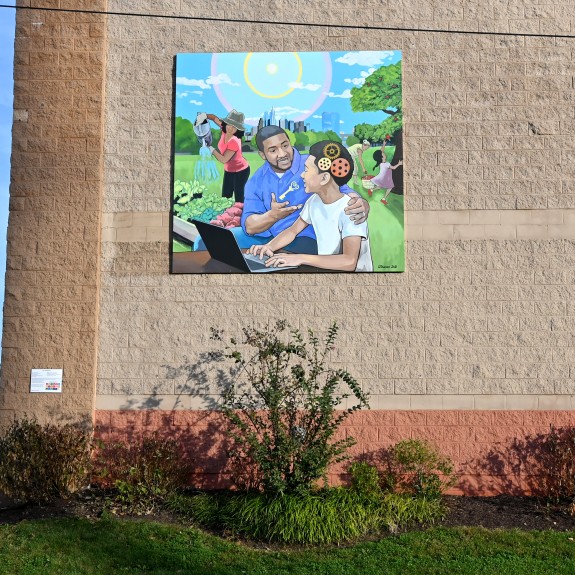 Local Impact
With each mural, a grant is awarded to a community organization doing relevant work. The non-profit Education Culture Opportunities Foundation (ECO) received a grant to continue its educational outreach around poverty.
Thanks To
GPA is grateful for the efforts of artist Gabe Tiberino, sponsors John and Susan Smith, and host Park West Town Center Shop Rite. Congratulations to grant recipient ECO.
---
Global Context
Since 2019, extreme poverty has surged, with 70 million more people living on less than $2.15 per day by 2020. The rate increased from 8.5% in 2019 to 9.3% in 2020, and nowcasting predicts that up to 670 million people could still be in extreme poverty by the end of 2022. However, there is hope for improvement, as the figure is expected to drop to 575 million by 2030. Only one-third of countries are projected to halve their national poverty rates by 2030 from 2015. Moreover, global coverage of social protection cash benefits remains insufficient, with only 47% effectively covered in 2020.
Shifting public resources towards essential services is crucial for reducing poverty, as currently, the global average proportion of government spending on essential services stands at approximately 53%. Advanced economies spend around 62%, while emerging market and developing economies spend 44% on essential services.