SDG #6: Clean Water and Sanitation
Artist Miriam Singer created the mural for SDG #6: Clean Water and Sanitation, installed at Drexel University's Academy of Natural Sciences. The mural shows a complex city with thriving waterways supporting healthy flora, fauna, and sustainable housing.
Miriam Singer was raised in Buffalo, New York and now lives with her husband and son in Philadelphia. She has exhibited at Paradigms Gallery, James Oliver Gallery, Stanek Gallery, Push Proof Studio, Brooklyn Art Gallery, LG Tripp Gallery, Woodmere Art Museum, Rowan University, Luke and Elroy Gallery, Gallery Siano, The Painted Bride, and Spector Gallery. Singer uses a combination of printmaking and drawing media to create her unique works on paper and designs for public art projects. Selected public art projects include, St. Andrews School in Delaware, 2020, University City Arts League in Philadelphia, 2019, Comcast Technology Center in Philadelphia, 2018, Navy Yard Bus Wraps, 2018, Art in The Airport, 2018, and Parktown Place Apartments, 2017.
She currently teaches printmaking at Fleisher Art Memorial in Philadelphia and is a member of the artist collective, Space 1026.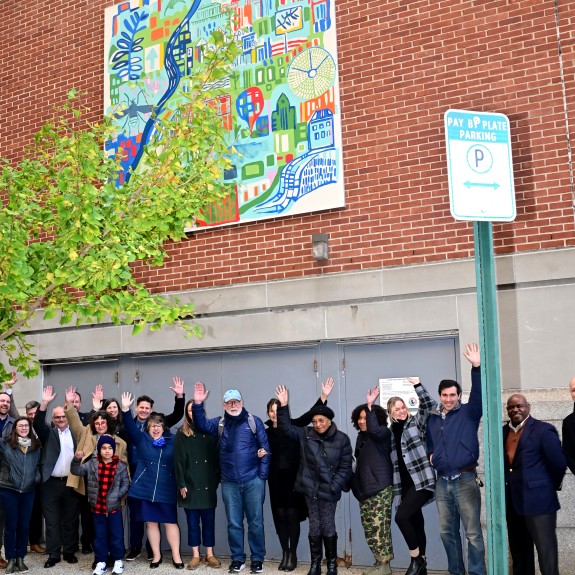 Local Impact
Each mural project contains a grant awarded to a deserving organization doing related work.
The SDG Mural Project awarded the grant for SDG #6 to The Patrick Center for Environmental Research. The Patrick Center has been devoted to understanding, protecting, and restoring the health of watersheds since 1947. The Center works with diverse stakeholders, including government, community groups, industry, and environmental organizations, to improve environmental stewardship.
Clean Water and Sanitation
Global Context
Despite some improvements in the provision of safe water, sanitation, and hygiene services, billions of people still lack access to these basic necessities. Water scarcity is a growing concern, exacerbated by conflicts and climate change. Water pollution also poses significant challenges to human health and the environment in various countries.
Achieving universal coverage by 2030 requires a substantial increase in global rates of progress for drinking water, sanitation, and hygiene. Addressing this issue involves boosting infrastructure investment, enhancing cross-sectoral coordination, and addressing climate change.
Thanks To
GPA celebrates the work of artist Miriam Singer and mural host and sponsor Drexel University Academy of Natural Sciences. Congratulations to grantee The Patrick Center for Environmental Research.