Artist Barbara Smolen created a stunning piece to support SDG #5: Gender Equality.
Barbara Smolen's artistic practice focuses on social justice. For two decades her mural art throughout Philadelphia has beautified the city and drawn TV, radio, scholarly, and political coverage to issues such as gun violence, domestic abuse, immigration, food insecurity, and gender equality. She teaches drawing and design as an Adjunct Faculty Member in the Antoinette Westphal College of Media Arts and Design at Drexel University. Her work is in books and in public and private collections.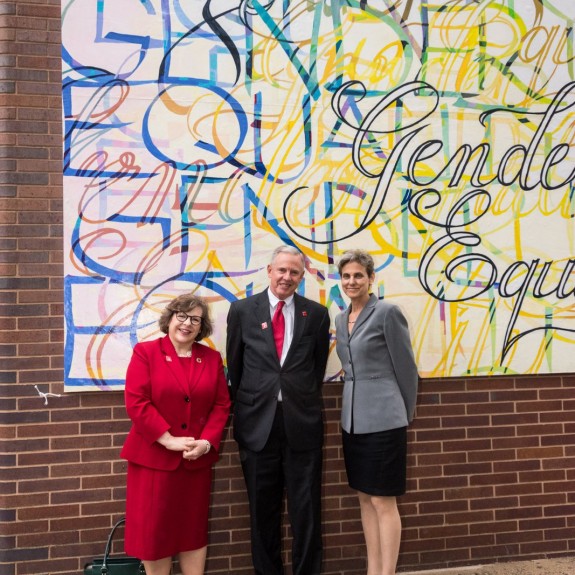 Local Impact
Each mural project contains a grant awarded to a deserving organization doing related work.
The grant for SDG #5: Gender Equality was awarded to the Gender Justice Fund. Formerly known as New Century Trust, it is one of the oldest organizations dedicated to ending the political and economic inequality faced by women in the Greater Philadelphia region.
Global Context
Gender equality progress remains inadequate, and the world is not on track to achieve it by 2030. None of the 18 indicators have fully met the targets, and at the current rate, it could take up to 286 years to close legal protection gaps and discriminatory laws, 140 years for gender parity in leadership positions, and 47 years for equal representation in national parliaments. Existing gender inequalities have been exacerbated by global crises, impacting access to healthcare, education, and economic opportunities for women.
For Target 5.1, many countries lack laws prohibiting discrimination against women, gender quotas in national parliaments, and equal remuneration for work. Child marriage remains a concern in Target 5.3, with the pandemic threatening progress. Gender parity in political institutions is slow in Target 5.5, and women still face challenges in decision-making about their sexual and reproductive health and rights in Target 5.6. Ownership rights to agricultural land remain unequal in Target 5.a, and mobile phone ownership still exhibits a gender gap in Target 5.b.
Furthermore, comprehensive systems to track and allocate resources for gender equality are lacking in many countries, as per Target 5.c. Addressing these issues requires comprehensive policy reforms and strong political leadership.
Thanks To
Global Philadelphia is grateful for the efforts of artist Barbara Smolen, sponsor Glenmede Trust Company, and host Friends Select School. Congratulations to grant winner Gender Justice Fund.
The mural art project is the fifth out of the seventeen SDGs, has become the first goal to be celebrated in the campaign at Global Philadelphia Association. The artwork is a colorful calligraphic interpretation of the goal supporting gender equality in the City of Philadelphia.