SDG #4: Quality Education
There are two murals for SDG #4, and the second is located at Saint Joseph's University, painted by Philadelpia-born and Paris-based artist Arthur Haywood.
Arthur Haywood created the second mural, installed in the SJU Sciences Building. In the mural, a sidewalk is transformed by a mystical figure opening a giant book, which casts light upward and reveals a natural paradise above.
Arthur Haywood's work celebrates the wonder of stories. His paintings are seen on murals for the Philadelphia Mural Arts Program, Sprocket Mural Festival, his book "The Great Library" and Space and Time Magazine. He exhibits his paintings in New York and Pennsylvania and completes commissions. He also specializes in bringing his fantasy-styled artwork to school and library murals and book covers.
This mural is located at the Saint Joseph's University Sciences Building.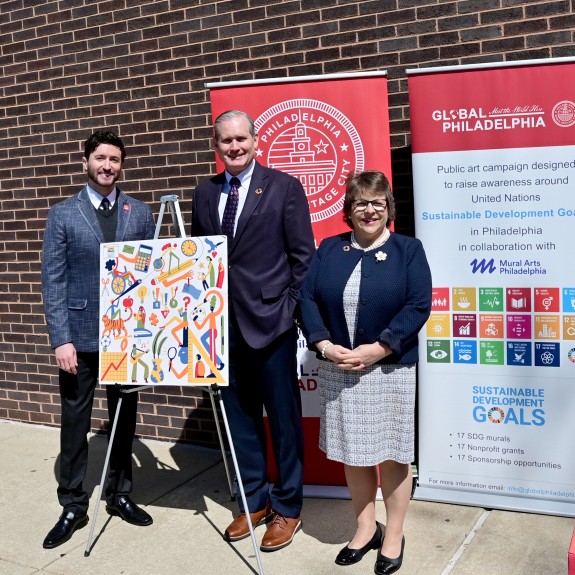 Local Impact
Each mural project contains a grant awarded to a deserving organization doing related work.
The SDG #4: Quality Education grant went to the Philadelphia School District. Saint Joseph's University funded the $3,000 grant.
The academic partners for the second mural of SDG #4 are David Steingard and James O'Sullivan.
Global Context
Even before the COVID-19 pandemic, the world was already falling behind in achieving its education targets. If no further action is taken, only one in six countries will attain SDG4 and provide universal access to quality education by 2030. Approximately 84 million children and young people will remain out of school, and around 300 million students will lack essential numeracy and literacy skills necessary for success in life. Between 2015 and 2021, school completion rates saw limited progress, with slowdowns observed even before the pandemic.
Global learning levels showed no improvement between 2015 and 2019, and COVID-related school closures led to learning losses in the majority of countries surveyed. Pre-primary education access remains far from the target, with a stagnant participation rate of about 75% one year before official primary entry age. Additionally, formal or non-formal education and training participation is low among adults aged 25-55 compared to youth.
Basic school infrastructure and teacher qualifications are also insufficient globally, with a significant number of primary schools lacking access to essential services and a considerable percentage of teachers not meeting national norms for qualifications. To achieve SDG4, education systems must be reimagined, and increased education financing should be a priority national investment.
Thanks to
GPA celebrates the efforts of artist Arthur Haywood and the hospitality of host-sponsor St. John's University. Congratulations to the grantee, the Philadelphia School District.