SDG #3: Good Health and Well-Being
Acclaimed muralist David Guinn created the mural for SDG #3: Good Health and Well Being, hosted by vybe Urgent Care at 5828 Market Street.
The mural brings the beauty and hope of organic farming to an urban setting, with fruit trees and an overflowing, verdant garden inside a backyard wall.
Since 1998 David has painted over 35 murals throughout Philadelphia and other cities worldwide. In 2012, David founded Freewall, an outdoor space promoting innovative mural art.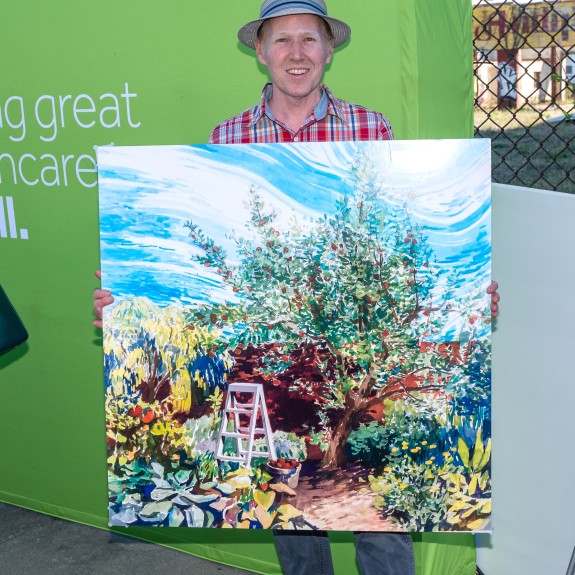 Local Impact
The mural's unveiling featured many shareholders, local dignitaries, the artist, and live music.
Each mural project contains a grant awarded to a deserving organization doing related work.
The grant for SDG #3: Good Health and Well Being, went to MANNA.
About the grantee:
MANNA is a leader in evidence-based nutrition services, bringing together dietitians, chefs, drivers, and thousands of volunteers to cook and deliver nutritious, medically appropriate meals and provide nutrition counseling to neighbors who are battling serious illnesses such as cancer, renal disease, and HIV/AIDS. From hands-on cooking classes and nutrition counseling to the delivery of 3 meals a day, 7 days a week, MANNA provides nourishment, hope, and healing to the Greater Philadelphia area, Southern New Jersey, and beyond.
Global Context
The COVID-19 pandemic and other crises have impeded progress towards SDG3, exacerbating health inequalities and threatening universal health coverage. Maternal mortality remains high, with slow improvement, and 68 million children are un- or under-vaccinated. Communicable disease targets show mixed results, with significant progress in reducing HIV infections but challenges in TB, malaria, and neglected tropical diseases. Family planning satisfaction has slightly increased, but universal access remains elusive.
The pandemic's disruptions highlight the need for stronger global health security systems. Strengthening health systems urgently is crucial to address setbacks and longstanding health care deficiencies. Addressing shortages in health workers is also critical, especially in regions with the highest disease burden.
Thanks To
GPA is grateful for the efforts of artist David Guinn and sponsor-host vybe Urgent Care. Congratulations to grant winner, MANNA.