This fall, GPA is working with our network of community partners, members, and sponsors to unveil the mural for SDG #2: Zero Hunger, painted by Philadelphia-based artist Branche Coverdale.
Stayed tuned for more details of the unveiling.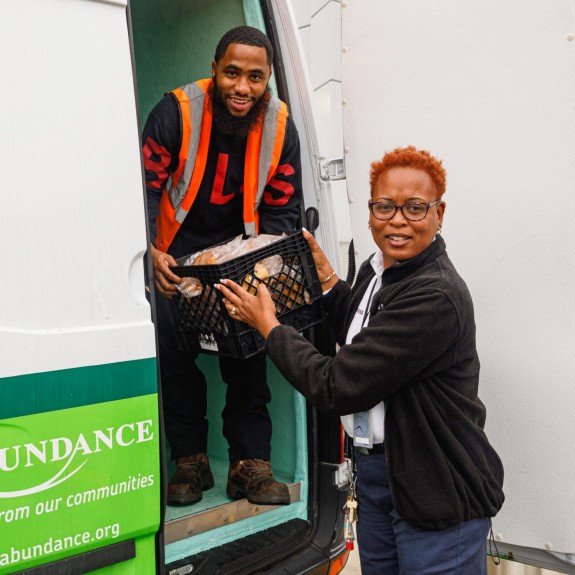 Local Impact
Each mural project contains a grant awarded to a deserving organization doing related work.
Philabundance was founded in 1984 with the simple belief that no one should go hungry while healthy food goes to waste. Their mission is to drive hunger from our communities today and to end hunger for good. To do this, they work with over 350 community partners to distribute food throughout nine counties in Southeastern Pennsylvania and Southern New Jersey and are a proud member of the Feeding America network.
This grant is sponsored by GIANT Foods. 
Photo credit: Philabundance


Global Context
Goal 2 is about creating a world free of hunger by 2030.The global issue of hunger and food insecurity has shown an alarming increase since 2015, a trend exacerbated by a combination of factors including the pandemic, conflict, climate change, and deepening inequalities.
By 2022, approximately 735 million people – or 9.2% of the world's population – found themselves in a state of chronic hunger – a staggering rise compared to 2019. This data underscores the severity of the situation, revealing a growing crisis.
In addition, an estimated 2.4 billion people faced moderate to severe food insecurity in 2022. This classification signifies their lack of access to sufficient nourishment. This number escalated by an alarming 391 million people compared to 2019.
The persistent surge in hunger and food insecurity, fueled by a complex interplay of factors, demands immediate attention and coordinated global efforts to alleviate this critical humanitarian challenge.