Contact Information
Shannon Cline
Executive Director
215-235-8469
Location
Office
2238 Fairmount Avenue
Philadelphia, PA 19130
United States
Concert Venue
Philadelphia Episcopal Cathedral
23 S 38th St
Philadelphia, 19104
United States
Piffaro, the Renaissance Band
Organization/Business type
Nonprofit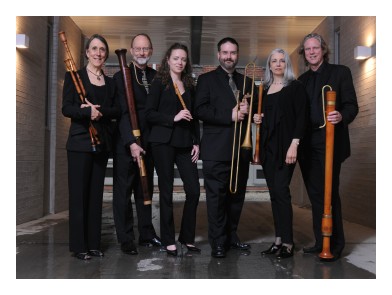 "Widely regarded as North America's masters of music for Renaissance wind band" (St Paul Pioneer Press), Piffaro has delighted audiences throughout the United States, Europe, Canada and South America since its founding in 1980. Under the direction of Joan Kimball and Robert Wiemken, Piffaro recreates the rustic music of the peasantry and the elegant sounds of the official wind bands of the late Medieval and Renaissance periods. Its ever-expanding instrumentarium includes over 40 shawms, dulcians, sackbuts, recorders, krumhorns, bagpipes, lutes, guitars, harps, and a variety of percussion — all careful reconstructions of instruments from the period.
The ensemble made its European debut at Tage Alter Musik in Regensburg, Germany in 1993. They performed there again in 1996 as part of a tour of summer music festivals in Austria, Germany, France, Belgium and Italy, and in 1997 and 1998 appeared at festivals in Hamburg, Berlin, The Czech Republic, Belgium, Spain and Colombia, South America. Between 2000 and 2003, they returned to Regensburg for a third time, performed two summers in a row at the Spoleto Festival in Italy, made their English debut at the York Early Music Festival, and performed at the Utrecht Early Music Festival. The group continues to have a strong global presence with two recent returns to Regensburg, making them one of the most frequently invited groups there, Barcelona, a return to Utrecht, NDR Studios in Hamburg, and Southern Austria. Piffaro's most recent performances abroad were in Bolivia during that country's prestigious cultural event, the 22-town International Renaissance and Baroque Festival in April of 2010.
Through Piffaro's twenty recordings on Newport Classics, Deutsche Grammophon Arkiv Produktion, Dorian Recordings, PARMA/Navona, and its own house label, and through radio and internet broadcasts, its music has reached listeners worldwide, as far away as Siberia. Back Before Bach, Piffaro's most recent recording for PARMA/Navona, was released in July 2017.
Piffaro has been honored with the "Early Music Brings History Alive" award in 2003, the Laurette Goldberg "Lifetime Achievement Award in Early Music Outreach" in 2011, and the American Recorder Society's "Distinguished Achievement Award" in 2015. Its National Recorder Competition for Young Players attracts talented competitors from around the country to Philadelphia every two years. In December 2016, Piffaro was one of only 13 U.S. arts organizations invited to launch the new performing arts division of Google's Cultural Institute, where it has mounted two exhibits.
Topic
Arts and Culture
History and Preservation