Contact Information
856-547-3695
Location
Greater Philadelphia Area
2 Coleman Avenue
Cherry Hill , NJ 08034
United States
Para-Plus Translations, Inc.
Organization/Business type
Other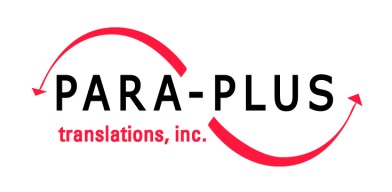 Para-Plus Translations is a leading provider of comprehensive global translation, interpretation, transcription, voice-over, and sign language services in more than 100 languages. Para-Plus has been offering a wide range of foreign language services to businesses, individuals and organizations for more than three decades. The company takes pride in delivering outstanding service and personal attention, representing a wide array of industries including businesses, law firms and legal service providers, governments and municipalities, health care, education, financial and insurance institutions. National and international clients rely on Para-Plus Translations to provide document translation and interpretation services and our dedicated team of foreign language linguists assists clients in breaking down communication barriers to build lasting relationships with multicultural contacts. For further information, please visit: http://www.para-plus.com.
Global region
Africa
Asia
Central America/Carribean
Europe
North America
Pacific Oceania
South America