Contact Information
215-438-1768
Location
Johnson House Historic Site
6306 Germantown Avenue
Philadelphia, PA 19144
United States
Johnson House Historic Site
Organization/Business type
Civic/Community Organization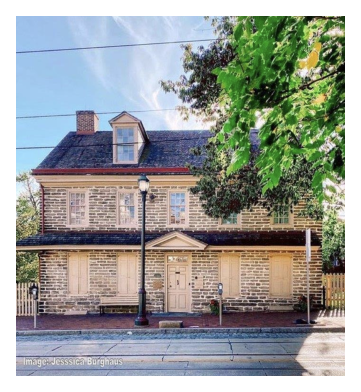 Johnson House Historic Site, a Center for Social Advocacy (CSA) an Underground Railroad stop and historic house museum that represents what everyday people have done and can do to make a difference in their community and beyond. Our example of partnership—between Africans seeking freedom and the "infidel" abolitionist Johnson family—serves as a catalyst to inspire, uplift, and empower current and future generations. We accomplish our goals by creating interactive educational opportunities, fostering community initiatives, and preserving the historic integrity of the house, grounds, and outlier buildings.
Johnson House Journal
Johnson House Historic Site enjoys successful but challenging years as do most historic sites. Strategic issues impacting the health and vibrancy of communities surrounding this Underground Railroad station and museum continue to lead re-visioning efforts which resulted in the creation of our Center for Social Advocacy (CSA). In 2017 our museum began planning to establish CSA and launched the Emerging Leaders Training Program, a pilot program to build the capacity for young future community practitioners and activists – ages 18 – 30 and was led by community-building practitioners. Working with residents, thought leaders, and advocates, CSA continues to grow its impact to address racial and social injustice issues that face neighborhoods today.
The creation of highly anticipated and well-attended events and education programs – History Hunters Youth Reporter Program, Philadelphia Juneteenth Festival, and Center for Social Advocacy – stimulates visitor ship. Our future is bright!
History
Johnson House was built by John Johnson, son of a Dutch immigrant, for his son John Johnson Jr., as a wedding present in 1768. The Johnson family, Quakers, farmed the land and ran a thriving tannery business on their property. Stories that encompass the injustices of slavery and the perils of war; religious freedom, activism, and human rights; political intrigue and ideological differences; and decency and compassion have unfolded within the walls of Johnson House since its inception and have been carefully interpreted and preserved to educate and inform today. From its beginnings as a manor house set in a bucolic agrarian community in the 1700s owned by enlightened religious devotees, its role as a pivotal station along the Underground Railroad in the 1800s, and its position as a historic preservation and educational institution in the 1900s to current day, Johnson House continues to symbolize freedom and civil liberties while championing the importance of community. Click here for more.
Preservation
To sustain the character, form, and integrity of the Johnson House built over 255 years ago, significant preservation and restoration work are ongoing to ensure its long-term health. A team of experts ­– architects, engineers, and preservation specialists ­– work together to repair and maintain this venerable building utilizing materials consistent with dwellings constructed during this era. Recently, exterior carpentry repairs, window glazing, and priming and finish painting of the shutters on the main and side facades were completed. This project moves closer to becoming a more interactive public museum which will make it distinctive in its capacity to connect a vital chapter in American history to the public. However, there are additional key preservation projects which must be completed.