Contact Information
Hilary Jay
Founder and Managing Director
+1 (267) 225-6068
Department of Better
Organization/Business type
Civic/Community Organization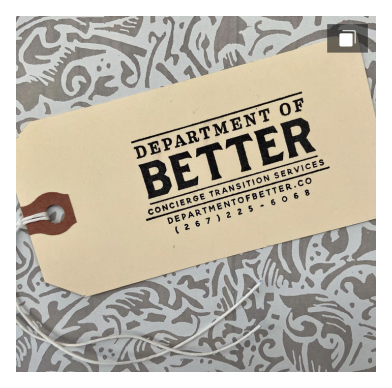 Stewarding Forward
Transitions are thrilling - AND terrifying. Letting go of the places and things we love can be a heartache. I know that as well as anyone having moved many times over the years. Through these life transitions, I've learned the fine art of rightsizing and how to create spaces that fit just right, and feel good. Sharing that expertise and serving others is the genesis for Department of Better.
Design at the Core
In the process of paring down and creating fresh spaces that fit your aesthetic and functional needs, the Department of Better team considers your emotional, physical, and spiritual well-being. That's simply good design. You and your family are at the center of every conversation. Our staff creates and implements your transition plan with reverence for your pacing, your things, and your legacy.
---
Meet our team​
Hilary Jay,
founder and managing director, is an award-winning journalist, designer, and a veteran educator. She co-founded Maximal Art - an international costume jewelry and watch company - where she was chief designer alongside John Wind. Her accessories can be found in the permanent collections of London's Victoria + Albert Museum, Paris' Musée des Arts Decoratifs, and the Philadelphia Museum of Art.
"After decades working as a journalist, curator, educator, and designer, I founded Department of Better to help people create spaces that feel good, look great, and function exactly as needed."
Hilary's writing has appeared in Metropolitan Home, More, IDmagazine, Galerie, and Arts + Antiques, in addition to the Philadelphia Inquirer Sunday Magazine which featured her weekly column on interiors, architecture, design, and gardens.
She was chief curator of the Paley Design Center at Philadelphia University. She co-founded DesignPhiladelphia, the first American design festival, which became the business model for others across the United States. Hilary has taught professional practices and design business courses at the college level, and led international design conferences and workshops. She regularly speaks on the fine art of living well.
Topic
Business and Commerce
Community Development