Contact Information
(215) 525-3233
Location
CHIMA BRAZILIAN STEAKHOUSE
1901 John F. Kennedy Boulevard
Philadelphia, 19103
United States
CHIMA BRAZILIAN STEAKHOUSE
Organization/Business type
Other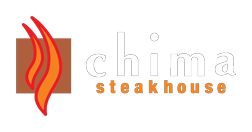 Chima Steakhouse (pronounced "She-ma") is an elegant Brazilian steakhouse offering a most unique fine dining experience. The name Chima Brazilian Steakhouse is derived from the word chimarrão, which is a typical drink from Rio Grande do Sul, Brazil and is greatly enjoyed by the people of that region. Chimarrão is a Gaucho tradition that follows the peasants and townsfolk everyday living. The name comes from the Spanish word, Cimarron, which is of colonial origin and means "bitter taste." The drink was served by the friendly and hospitable Guarani Indians to their Spanish guests, who were greatly impressed. The Guarani Indians were unique, not just because of their docile and happy nature, but also for their proud, dignified manner and their constant consumption of this exceptional beverage. It didn't take long for the colonists to recognize the curative and invigorating properties of chimarrão.
To this day, Rio Grande do Sul, a rich, modern state, preserves that tradition of warm hospitality. When the Spanish entertain, a chimarrão beverage is always in the hands of their guests. This act engenders close personal relationships because the receptacle or cuia ("coo-ya") is passed from hand to hand, much like the pipe of peace, and lends itself to friendly and intimate conversation. Plus it is a great partner to Churrasco (Brazilian barbeque) served "rodizio" style, being an excellent diuretic and digestive aid. The chimarrão has always represented a regional statement and gesture of cordiality toward guests. This is why the word Chima was chosen for the steakhouse- in honor of these great hosts.
Menu

The menu at Chima includes a variety of meats and fish all served by authentic "Gauchos." This option, called Brazilian Churrasco (Brazilian barbeque) served Rodizo style, is when the Gauchos travel from table to table tempting guests with skewers of deliciously prepared meats – until they finally say "enough!" by turning the double-sided coin on the table from orange to black. Meals are accompanied by one of the most inclusive salad bars, with a wide range of American and Brazilian favorites – including more than 15 varieties of salads, oven-fresh breads, soups, cheeses and deli meats. For those with a hearty appetite, desserts range from ice cream to delicious Brazilian specialties. A full bar provides cocktails made to order. Guests can choose from an extensive liquor selection. And for the wine lovers, Chima offers an extensive wine list that is the envy of connoisseurs everywhere, featuring a vast selection of sweet wines, sparkling wines and champagnes from around the world- including bottles from Argentina, Brazil, Chile, France, Italy, Portugal, Spain, Australia, New Zealand and the United States of America.
The interior design at Chima creates a vibrant and authentic but contemporary Brazilian atmosphere. With deep, rich, lush colors lining the walls and fresh white linens covering the tables, a visual contrast is created that is not only attractive but inviting. The salad bar is an eye-stopper, displaying a vast arrangement of colorful and interesting foods. Nearly a focal point in itself, the salad bar is both functional and stylish- acting as the heart of the restaurant.
If guests aren't convening around there, then they are most certainly at the bar. Hip, fun and very chic, the bar area is elegantly designed to ensure rapid service and a great time. With sleek lined bar tops, sophisticated overhead lighting that provides a subtle illumination creating an alluring atmosphere and ample seating at both bar top and the bar side intimate tables, the Chima bar is nearly an exclusive lounge of its own.
Locations & Hours

Dinner: $54.90 (includes variety of meats and Salad Bar); and $32.50 Salad Bar and 2 Fish Option only
Lunch: $24.50 includes 5 meats (including Salmon) and salad bar unlimited; $15.50 includes 30+ items salad bar (does not include fish)
Dinner: MON – THURS: 5:30 PM – 9:00 PM FRI - SAT: 5:30 PM – 10:00 PM SUN: 4:00 PM – 9:00 PM
Lunch: MON - FRIDAY 11:30am to 2pm
Special Amenities

Chima Brazilian Steakhouse is dedicated to providing exquisite customer service and satisfaction. They offer several amenities that are available at Chima locations, including: VIP Party Accommodations - We have two private rooms accommodating 60 and 90 guests. They can be combined to seat over 150. There is a semi-private room accommodating 40 – all rooms based on availability. Reservations are required. HD TVs, Wireless Internet, Wireless Microphone, Digital Overhead Projector and 90" Screen. Parking: Valet Parking Available-$18 per car Discount Parking - Central Parking Garage on 19th & JFK ($6) Handicapped Accessible