Contact Information
(215) 751 - 9501
Location
One Penn Center
1617 JFK Blvd.
Suite 889
Philadelphia, PA 19103
United States
African American Chamber of Commerce (AACC)
Organization/Business type
Civic/Community Organization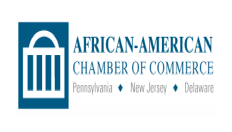 The mission of the African-American Chamber of Commerce (AACC) of Pennsylvania, New Jersey and Delaware is to provide substantive support in advocating, developing, and promoting Black-owned businesses in both public and private sector forums.
The AACC promotes the vision, the voice, and the value of Black business ownership in the Delaware Valley.
Our Method:
RoadMap
Getting started as a member of the African-American Chamber of Commerce is simple and provides immediate, customized benefits through the "Roadmap to Growth" Business Development Plan. The "Roadmap to Growth" plan develops a business assessment that is linked with a customized map of the most useful membership resources available for each member to achieve success and sustainability.
Emerging Opportunities
Forecasting and building pathways to emerging business opportunities is an integral part of all AACC programming activities. By conducting research, and forging partnerships with professional trade and community organizations, the AACC works to identify new business opportunities for entrepreneurs and business owners.
Advocacy
As an advocate for its members, the AACC seeks to be the voice of the African-American business community. We monitor the economic pulse of the community in order to identify unique barriers to entry and competitiveness, and to raise awareness about the opportunities and available resources that will help our members attain success. This effort is carried out through ongoing, consistent dialogue with legislators, policy-makers, public and private sector corporations, and financial institutions about the specific actions necessary to achieve continual positive change within the African-American community at-large.
Participation & Inclusion
Building upon all of the R.E.A.P. milestones; [Minority] Participation & Inclusion are the most essential components in advancing the African-American business community. Through partnerships with similar interest organizations, the AACC works to streamline the MBE certification process and centralize bid-assistance resources. The AACC also partners with public & private sector procurement administrators to identify African-American vendors for contract opportunities. Finally, the AACC works to engage traditional and non-traditional financial lenders to provide access to capital for African-American businesses.