West Philadelphia Corridor Collaborative Growing Small Businesses with New Container Village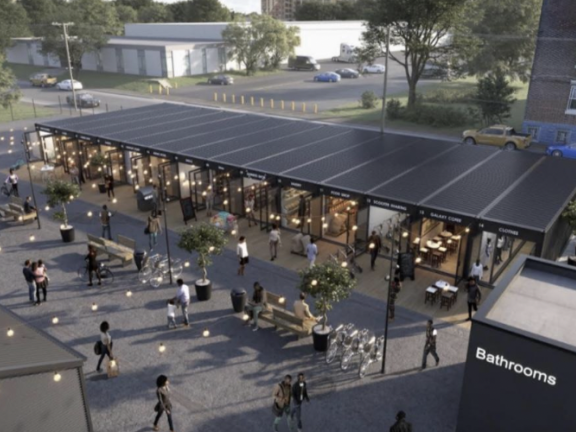 By Chloe Hunt
West Philadelphia Corridor Collaborative President, Jabari Jones, alongside Councilman Curtis Jones, brought to life a public market with refurbished shipping containers as spaces for small businesses.
Located along Parkside Avenue in West Philadelphia, the Container Village serves as a spot for buying and selling goods, community development, and a peaceful space for residents and visitors alike.
The Container Village, equipped with 20 containers fitted with electricity and flooring, provides a platform for small businesses to grow. In order to support the businesses involved, rent is estimated around $500 to $700 a month. Additionally, the City will provide participating businesses with business coaching, marketing, promotional help, as well as networking to help them grow.
Sponsored by the Philadelphia City Council, WSFS Bank, Wells Fargo, the Senate of Pennsylvania, and more, the 4th District West Philly Container Village operates under their tagline, "Where it takes a village to scare a business."
The main driver of the project, the WPCC, is involved in a multitude of endeavors related to urban development, including: partnerships, representation, tourism and international presence, grants and capital, increasing consumer traffic, business education, and connection to opportunities.
In 2017, WPCC issued an executive resolution to encourage West Philadelphia's business community and corporate leaders to dedicate resources to help solve neighborhood challenges. This resolution comes in the form of WPCC's Business Giving Back Program, which empowers the community and leaders to hold their own programs that effectively benefit small businesses in the region. Programs such as Technology Repair Pop-up and Operation E-Day have successfully helped businesses grow and paved the way for the establishment of West Philadelphia's Container Village.
To contribute to the Container Village project and support the WPCC, check out this link where you can contribute to the Business Giving Back Program.
Topic
Business and Commerce
Emerging International Journalists Program