The Vision for Philadelphia250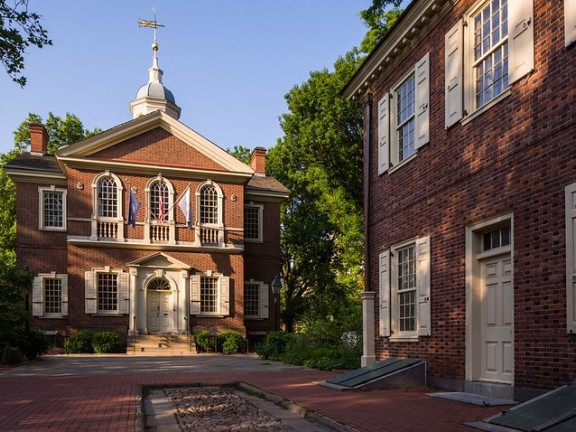 By Aaron Stoyack
To many, Philadelphia's history lies in its Revolutionary-era activities. To the Global Philadelphia Association (GPA), its history lies in the storied contributions of community members originating from across the globe. Previous anniversary celebrations have focused on the city as the birthplace of American independence. Now that the 250th anniversary of 1776 is approaching, Philadelphia250 has a mission to create the most inclusive and innovative anniversary in America's history.
Philadelphia's past anniversaries have been frequented by international ambassadors and attendees. These ambassadors came bearing gifts such as the iconic 1926 gifts of the cherry trees in Fairmount Park and Seahorse Fountain by the Waterworks. In 2026, Philadelphia250 wants to inspire programs, projects, and events sourced from the local community while having international appeal.
"We hope that we can activate the local global community: we hope to highlight their histories, traditions, culture and food, and how it all fits into the American story as a whole." Philadelphia250 Executive Director Danielle DiLeo Kim said.
That vision begins with an initiative launched on February 16th, called "Leave a Legacy." Leave a Legacy entails a call for proposals from individuals, corporations, and organizations to create lasting legacies in Philadelphia for future generations to enjoy.
"The legacy projects from former anniversaries have had positive, lasting impacts, such as Memorial Hall, the Benjamin Franklin Bridge, and the African American Museum of Philadelphia. This time around we will listen to what Philadelphians want to see created or changed for future generations right here in Philadelphia's neighborhoods," DiLeo Kim added.
These social and civic programs can include literacy or after-school programs, increased public health access, clean and safe tree-lined streets, and sustainable renovations to row homes.
GPA's Executive Director Zabeth Teelucksingh sits on the Board of Directors for Philadelphia250 and the Early Program Planning Committee, keeping the organization informed of GPA's current projects.
One of the most exciting, the Sustainable Development Goals Campaign (SDG), involves working with local artists and sponsoring institutions to create murals for each of the United Nation's 17 goals for a human and planet-oriented future. While these murals are temporary pieces only on display for three years, for the 250th anniversary they will all be on display at an accessible public place. One suggested by DiLeo Kim: the Centennial District, seeing as the 1876 Exhibition played host to attendees from around the world and the greatest inventions of the time, this innovative and global spirit would be well-captured with the SDG murals.
With 2026 fast approaching, Philadelphia250 charges people from across the country to make their own Declaration on their website, asking how the promises of life, liberty, and the pursuit of happiness can be made a reality.
"There are too many Americans that still struggle with attaining these basic rights every day. Asking challenging questions and having uncomfortable conversations with one another will help us learn more about one another's personal experiences and stories," DiLeo Kim said. "Challenging and consequential conversations are central to civic engagement. Then, of course, we need tangible solutions that respond to these conversations."
Tangible solutions start with these honest discussions and community-based projects. It is clear that the 2026 festivities while celebrating the past 250 years have their eyes set on the future. Through the Leave a Legacy program and SDG Murals, Philadelphia250 and GPA are partnering to, quite literally, leave a legacy. Rather than confining projects to 2026, these organizations seek to produce enduring projects with the community, projects that can create tangible, long-lasting change to be celebrated at the Tricentennial and beyond.
Topic
Emerging International Journalists Program