Meet the City Council Candidates with Global Philadelphia Association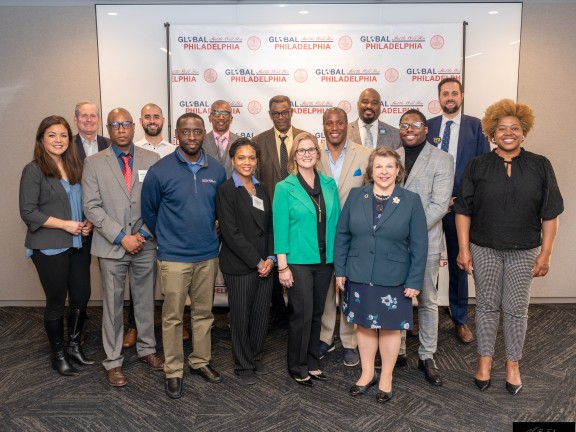 On April 4, 2023, Global Philadelphia hosted a "Meet the City Council" event for city residents, leaders, business associates, young professionals, students, and educators. The event took place at Deloitte, 1700 Market Street, Suite 2700, Philadelphia, PA 19103 from 5pm to 7pm. The event was co-chaired by Harold Yaffee, Executive Committee Board Member at Global Philadelphia Association, and special guest Denise Nakano, of KYW News radio, who was the emcee for the evening.
For the occasion, more than fifteen candidates were present along with many important members of the Philadelphia community such as former Mayor Nutter who gave a remarkable speech. This event was a great opportunity for candidates to meet and network with GPA members and share their ideas for our global city and their platform for the upcoming 2023 election. After the introduction given by the president of Global Philadelphia Association Zabeth Teelucksingh, audience members engaged in a questionnaire with candidates to better understand their platforms and the issues our city is currently facing.
Candidates were given the opportunity to meet other globally minded Philadelphians and to briefly answer a targeted question about their global vision for our global city. One of the candidates, Nina Ahmed, if elected, would be the only scientist on the City Council. She is currently the President of the Pennsylvania Chapter of the National Organization for Women and has also served on local nonprofit boards. Under Mayor Kenney, she was a Deputy Mayor for Public Engagement where she took part in launching the Office of Public Engagement to bring government and the people closer. As an advocate for women and communities of color, she is passionate about bringing the community together for change.
Another candidate was Eryn Santamoor. One of her priorities is a greener and healthier Philadelphia. She states we need to position Philadelphia globally in order to make it sustainable. That includes achieving zero waste and carbon emissions and promoting sustainable business development. Job Itzkowitz is no stranger to the nonprofit realm as he co-founded Young Involved Philadelphia, which connects young Philadelphians and local civic groups. He also co-founded the Friends of Love Park, which secured a $1 million sponsorship for Fairmount Park. Also present was Christopher Booth, who wants to boost Philadelphia's status as a World First Class City by elevating our city's legacy as a historical and cultural destination.
The questionnaires lasted about an hour and half, and then audience members had the opportunity to network and speak with the candidates that interested them.
Held during every major city council election, Global Philadelphia seeks to acculturate Philadelphians about global issues and connect a variety of international organizations, nonprofits, businesses, and educational institutions. In doing so, GPA strengthens the fabric of our World Heritage City. Each Meet the City Council event has allowed residents to democratically engage with our city's leaders concerning the problems and solutions that are most important to them.
As the event came to a close, Council Member Isaiah Thomas noted that, "whoever's idea this was did a great job." Global Philadelphia proudly promotes Philadelphia's World Heritage City status while also offering an opportunity to different sectors of our city to connect and actively discuss Sustainable Development, education initiatives, young professional networking, preserving cultural heritage, and so much more.
Topic
Emerging International Journalists Program