How Philadelphia is Celebrating 40 Years of International Monuments and Sites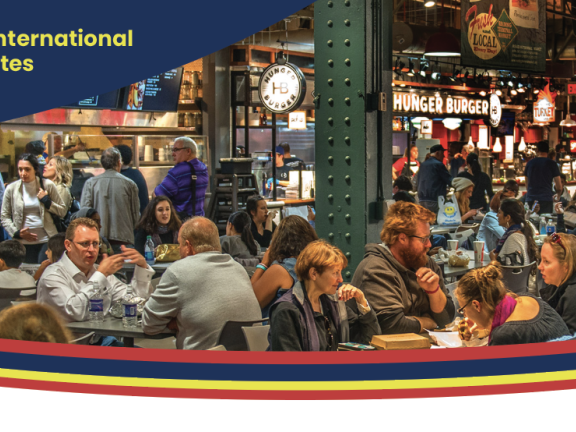 Contact Gary Wooten at [email protected] for more information.
PHILADELPHIA, April 9, 2021 – Philadelphia is celebrating the International Day for Monuments and Sites on April 18th by welcoming visitors back to the region's National Historic Landmarks. Global Philadelphia Association (GPA) is partnering with 19 historic sites and museums to encourage outdoor, indoor, and virtual exploration of the region's history and heritage. Participating sites will offer tours for visitors, virtual programs, special events, discounts, and much more.
Philadelphia is home to 67 of the nation's 2,618 National Historic Landmarks (NHLs). They represent Philadelphia's most important historical places, events, and people and can be found in neighborhoods throughout the city and region. By hosting the International Day of Monuments and Sites on April 18th, Philadelphia will share this heritage with the world as part of the global celebration of the International Day for Monuments and Sites. This day is organized annually by the International Council on Monuments and Sites (ICOMOS) to raise awareness of cultural heritages throughout the world and to promote efforts for heritage conservation. Established in 1982, this event is celebrated globally for the same reasons it is celebrated right here in Philadelphia.
"IDMS is a wonderful occasion to highlight Philadelphia's 67 National Historic Landmarks and to take part in a day that is celebrated all over the world. Our city is unique in its historical and cultural offerings, the NHL map showcases these for all to enjoy. Join in and visit somewhere that you haven't seen before in Philadelphia!" - Zabeth Teelucksingh, CEO of Global Philadelphia Association
Participating NHLs will offer visitors a variety of opportunities to explore and learn about their site's historical significance. Many of the sites will be open for in-person visitation, with both indoor and outdoor activities including special guided tours, open houses, unique programs, live events, a historic reenactment, and more. For those who are unable to visit in-person, there are many virtual activities available as well, including live virtual tours, digital exhibitions, video presentations, webinars, and a virtual curator talk co-presented by Eastern State Penitentiary, Girard College and the Wagner Free Institute of Science.
Participating National Historic Landmarks:
The Athenaeum of Philadelphia
Cliveden
Arch Street Meeting House
Reading Terminal Market
Girard College
Saint Mark's Church, Philadelphia
Stenton
Philly Seaport
Historic Rittenhouse Town
Laurel Hill Cemetery
Wyck Historic House, Garden, and Farm
The Woodlands
Beth Sholom Preservation Foundation
Wagner Free Institute of Science
Hill-Physick House
Johnson House Historic Site
Eastern State Penitentiary
PhilaLandmarks
Grand Lodge of Pennsylvania
Another exciting development is that this is the first year we are creating a community between the NHLs in Philadelphia. This year we are launching the National Historic Landmarks of Philadelphia Facebook page to both encourage and facilitate more interaction among the NHLs of Philly. The Facebook page is also a great place to start looking for activities for April 18th and the surrounding week. Many of the in-person and virtual events require advance registration. Visit the GPA event page for full details on the participating sites and their activities and to register for tours and events.
---
About Global Philadelphia Association:
Global Philadelphia Association (GPA) consists of more than 200 internationally involved organizations, businesses, and individuals in Greater Philadelphia. It was created to assist – and to encourage greater interaction among – the many organizations and people who are engaged in international activity in the Greater Philadelphia Region, to promote the development of an international consciousness within the area, and to enhance Philadelphia's global profile. GPA manages the World Heritage City Project in collaboration with the City of Philadelphia. For more information, visit globalphiladelphia.org.
Topic
Arts and Culture
History and Preservation