Global Philadelphia Unveils New Public Mural on Market Street in West Philly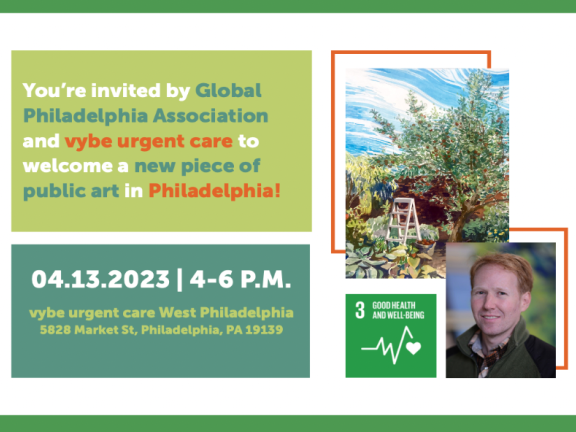 GLOBAL PHILADELPHIA UNVEILS NEW PUBLIC MURAL ON MARKET STREET IN WEST PHILADELPHIA, PROMOTING THE IMPORTANCE OF GOOD HEALTH AND WELL-BEING
Nonprofit dedicated to enhancing Philadelphia's global profile debuts a new community mural in association with vybe urgent care and Mural Arts Philadelphia.
WHO: Produced by: Global Philadelphia Association (GPA)
Host/Sponsor: vybe urgent care
Partners: Mural Arts Philadelphia
Artist: David Guinn
WHAT: Global Philadelphia Association (GPA) meets another United Nations Sustainable Development Goal (SDG) with the unveiling of a new public art mural by local artist David Guinn, celebrating SDG #3 – Good Health and Well-Being. The mural unveiling is sponsored by vybe urgent care and artistically portrays the importance of good health, healthy lifestyles, as well as people's right, to quality health care services.
The 17 Sustainable Development Goals are a call for action set forth by United Nations for all countries – poor, rich, and middle-income – to promote prosperity while protecting the planet. They recognize that ending poverty must go hand-in-hand with strategies that build economic growth and address a range of social needs including education, health, social protection, and job opportunities while tackling climate change and environmental protection.
The Sustainable Goals Campaign in Philadelphia is designed to bring awareness to the importance of the 17 development goals, through a series of public artwork, encouraging a broad commitment to their effectuation, both locally and on a global scale.
WHEN: Thursday, April 13, 4:00 PM – 6:00 PM. Remarks will begin promptly at 4:15 PM.
WHERE: vybe urgent care (5828 Market Street, Philadelphia, PA 19139)
VISUALS: The outdoor event will provide many opportunities for photography, including:
The new addition to West Philadelphia's public artwork portfolio by artist local artist David Guinn.

Presentation of a large-scale, $3,000 grant gifted to the MANNA organization.

Remarks from prominent Philadelphia business leaders, including:

Zabeth Teelucksingh (President of Global Philadelphia Association)

Rob McNeill (Board Chair of GPA)

Peter Hotz (CEO of vybe urgent care)

David Guinn (Artist)
QUOTES: "At Global Philadelphia we are committed to fostering the United Nations' 17 Sustainable Development Goals, and this collaboration with vybe urgent care is an opportunity to further that commitment," said Zabeth Teelucksingh, President of Global Philadelphia. "This new mural in West Philadelphia not only adds a beautiful new backdrop for the community, but also represents how public art can engage and address larger challenges our city faces, helping to create a better, more sustainable Philadelphia."
"Working with Global Philadelphia and the talented artist, David Guinn, we are thrilled to support this mural reflecting Good Health and Wellbeing," said Peter Hotz, President and CEO of vybe urgent care. "It affirms our commitment to providing kind and compassionate care in this vibrant area of the city."
PR CONTACT: Ally Wengel: (E) [email protected] (C) 908-914-5052
---
About the Global Philadelphia Association
The Global Philadelphia Association consists of more than 200 internationally involved organizations, businesses, and individuals in Greater Philadelphia. It was created to assist – and to encourage greater interaction among – the many organizations and people who are engaged in international activity in the Greater Philadelphia Region, to promote the development of an international consciousness within the area, and to enhance Philadelphia's global profile. For more information, visit website: globalphiladelphia.org
About vybe urgent care
vybe urgent care is Philadelphia's leading independent urgent care provider delivering care to adults and children in Philadelphia, Delaware, Bucks and Montgomery Counties. Open 7 days a week, vybe is an affordable and convenient alternative to long emergency room wait times and the limited hours of family physicians. vybe encourages appointments but also offers walk-ins and online telemedicine visits. vybe accepts major insurance plans and offers full urgent care services, such as illness and injury treatment, digital x-rays, EKGs, lab testing, physicals, immunizations, and occupational medicine. vybe is fully accredited by the Urgent Care Association (UCA), which is the highest level of distinction for urgent care centers and ensures high levels of patient safety and quality. For more information, visit www.vybe.care, and connect with us on Facebook, Instagram and Twitter using @vybecare.