Global Conversations with Arthur Haywood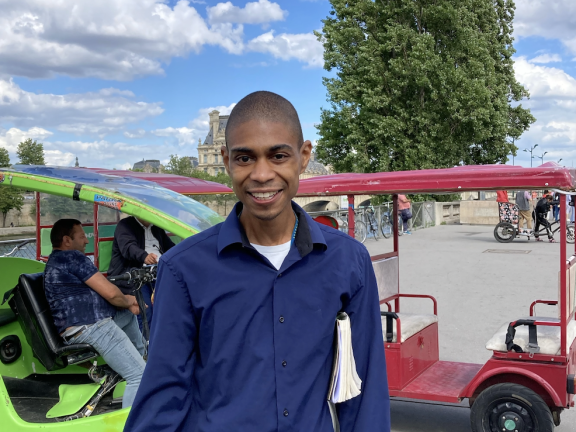 By Chloe Hunt
Question and Answer:
How did you first get interested in art? Can you tell us a little bit about your personal background?
For me, I have been creating since I was a child. I became more interested in art through graffiti classes with an artist named Pose 2 [or Daniel Hopkins], who is currently my mentor. I really admired seeing art on a large scale and how it was given to the community. I later interned with an artist who was in my graffiti classes, a Philadelphia artist named Noségo [or Yis Goodwin], and I interned on his murals for the Philadelphia Mural Arts Program. I noticed the role that murals play in the fabric of Philadelphia.
I studied illustration at the Maryland Institute College of Art before I furthered my studies of classical at Cambridge Street Studios in Philadelphia and then at the Central Atelier in New York so that I could add more realism into my art. I really admired seeing paintings that were in museums and all the emotive expressions that they were able to communicate with realism.
I then assisted on murals with the Philadelphia Mural Arts Program, including murals for the Free Library of Philadelphia and Amy Sherald (who painted Michelle Obama), before being commissioned to paint my own murals in Pennsylvania. I completed murals for Philadelphia Mural Arts Program, Sprocket Mural Festival and Elkins Park School. This led to me being selected for the 2020-21 Harriet Hale Woolley scholarship at the Fondation des États-Unis in Paris. There, I developed murals to inspire a love of reading and cultural appreciation amongst youth.
I worked with students at a high school and an elementary school in the town of Courbevoie. The students at Lycée Paul Lapie school were enthusiastic about the murals I have developed with them. When I visited the school to discuss my experience in creating murals and the goals of promoting literacy through art, they mentioned several books as their favorites, and many were excited to pose for the paintings. Students also helped paint sections around the edges of the murals. I presented my background, project and process with the youth at Ecollectif in French. I was grateful to hear some of the students testify that my project inspired them to read more books such as Harry Potter to imagine the characters more in depth.
I was mesmerized by the trompe l'oeil effect of the ceilings in the Palais Garnier and the Louvre. The expressive figures look so real that I believed they could step out of their frames. Seeing firsthand the feel of the various ceilings in the Louvre influenced me to incorporate elements such as borders simply decorated with static figures in contrast with exaggerated lighting and poses to enhance the drama of the scenes. When I read my favorite fantasy books, I feel transported to that world. My life-size paintings continue to be influenced by the masterpieces of Paris to create an immersive experience showing the appeal of the books.
This led me to be a recipient of the 2022-23 Tulsa Artist Fellowship, to inspire reading and doing book covers in Tulsa, Oklahoma. My passion to create paintings focuses on stories to excite kids about reading and to encourage one's development of knowledge. Since I was a child, painting and reading have been a large part of my life.
Can you tell us a little more about your experience in France? Do you know French?
So, when I started, this was at the start of the lockdown, so the only kind of visa I could get was a student visa. I ended up studying French in an intensive class for 15 hours a week. Originally, I was talking to the students in English at first, but then I was able to communicate in French as well.
After I did my original project, I was asked to continue at the Youth Center, Ecollectif, next to the high school, where they mainly only speak in French. This new ability led me to be able to continue doing murals in this town, participate in a reading festival they have every summer, and I was able to show the excitement of reading. I would use my life-sized paintings to share the excitement of reading with people in this town, and I had to speak in French to be able to communicate with them.
Do the murals have words on them? What messages do they have?
The process I have been using is mainly a visual final product. The process involves discussions about reading. The process consists of going to the schools, having a discussion with the students about the importance of reading as a way to create opportunities for people.
There are studies that show those who cannot read well are more likely to drop out of school, so we would talk about this, talk about their favorite books, and then I would use their voices in the art. I would create sketches based on their favorite books, and then they would vote, so I based the murals on their favorites. The students would then pose for the paintings.
I also have an immersive component, where the students are able to help with a Renaissance-esque border for the paintings. They are not just shown in the paintings, but they are involved in the creation and the discussions of the project. The paintings show that reading is a unifying link between students of diverse cultural backgrounds.
The main scene–the principal scene–I paint myself, and then I explain the process in detail to the students.
Now that you're in Oklahoma, do you see any difference with your approach there versus abroad?
The biggest component that I am trying to shift to is a focus on literacy. Illiteracy in America is a large issue, and I want to make it a principal component of this project. There are many students dropping out of school because they're not able to complete their homework.
I also want to change the scale…for [my latest] project, the goal is to create an immersive space. The goal is to fill an entire room with about 8-10 of these life-sized paintings. I was very much inspired by what I saw in Paris where figures were painted at a life-sized scale, almost like they could fall out of their frames. There are also a lot of writers here in the [Tulsa Art] fellowship, so I have also been working on book covers.
I want to elaborate on this project through more book covers. Book covers are really what got me wanting to read Harry Potter in the first place. When you see what the covers look like, it makes you want to jump into the story.
For Global Philadelphia, when you came on board for the SDG mural, where did your inspiration come from? How did you bring your vision to the canvas?
For the mural process here, in terms of inspiration, the mural highlights the magic of learning and appreciation for the environment. It shows a reader with blue hair, wearing a green dress, representing Mother Earth. She's opening a science fiction novel, with magical energy coming from the book. With this painting, I wanted to represent the magic that exists in reading and also how we can read about different things that can influence the environment in a positive way. This mural was created as part of the Philadelphia Global Association's sustainable development goals campaign, with this piece celebrating quality education.
Like how writers get writer's block, have you ever experienced a similar phenomenon as an artist?
For me, sketching has been really instrumental in that process. Sketching helps me find the right idea, and I do a lot of thumbnail sketches, which just consists of jotting down my ideas in a non-detailed way. Pinterest and museum visits actually also help me find a lot of inspiration, in terms of ideas and visuals that align with ideas I want to get across.
What do you think is the importance of using art as a vehicle for change?
One of the most striking aspects of visual art is that this is an accessible means of communication that can reach people across language and societal barriers.
I've met many young students who have never even visited an art museum because of limitations, or even just a lack of belonging or feeling of belonging, but public art is able to bring positivity, hope and renewal. You can bring that to people in their own community. Art can communicate with people instantly in their own space.
Topic
Arts and Culture
SDG Campaign
Emerging International Journalists Program
Global Conversations