In Germantown, history is happening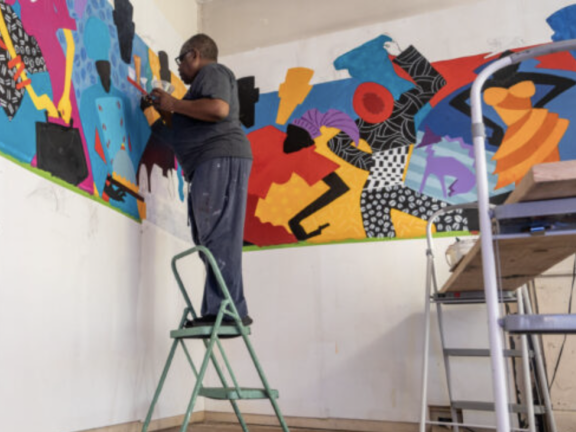 On June 19th, 2022, over 70 people ate bourbon-laced peach cobbler under twinkling lights on the grounds of Awbury Arboretum in Northwest Philadelphia. It was a celebration of Juneteenth and also part of an expansive effort on the part of this community greenspace to connect with the neighborhood.
That neighborhood, Germantown, has been on the frontlines of history. From Revolutionary War battles, to streetcar boom times, to 20th-century divestment and white flight, to contemporary gentrification, this vibrant community has endured. The result of this rich past is a raft of historical institutions in a small geographic footprint: Historic Germantown, an umbrella partnership, includes 18 historic houses, destinations, and museums.
But history is not static. The last decade has fundamentally changed the way many institutions tell their stories, spotlighting diverse voices and complicating traditional narratives. That process has special urgency in an area like Germantown. Issues around racial justice, Black history, and accessibility hit home in a community that is approximately 77% African American, according to the 2010 census. How can local sites bring their neighbors in and speak to their experiences?
Three institutions — all recipients of PA SHARP grants from PA Humanities — are finding creative ways to do just that. They are expanding their programming, listening to their neighbors, and embracing change.
Awbury Arboretum is a 56-acre green space in the heart of Germantown. It also sits behind a large stone wall, built by the Works Progress Administration during World War II. This barrier between the institution and the neighborhood is something they're working hard to overcome, both with changes to the physical space and updated programming.
"Three to four years ago, we started realizing we needed more things that related to our neighborhood," says Hideko Secrest, Grants Manager and Education Director at Awbury. "We don't have a lot of signs. A lot of people in the neighborhood thought it was a private estate and they weren't allowed in."
A William Penn Foundation grant will pay for interpretive signage, designed by Cloud Gehshan. The community has been invited to town hall meetings to advise on the process; the signs will start going up in fall 2023.
Another tool for generating engagement is giving each year of programming a theme. 2022 was the year of birds. The slate included bird-themed lectures, workshops and hikes. Jason Hall, founder of the In Color Birding Club, gave a lecture titled, "History of Birding and Ornithology among Black and Brown Communities."
"Hall had always been interested in birding, but he didn't have any Black models as a kid," explains Secrest. "In 2021, after the incident in Central Park with Christian Cooper, he started his club."
Hall led two bird walks on the site and drew over 40 people to each event. That success showed the power of integrating nature education with broader social issues relevant to the local community. And half the battle is just getting people into the property.
Right now we're just kind of this big, anonymous block in the middle of Germantown, so what we're hoping is that people will feel it's a much more welcoming and safe space.Hideko Secrest, Awbury Arboretum
"We're a public park, but we're not part of the city parks coalition," says Secrest. "I think when people do come in, they're pleasantly surprised, but a lot of times there's that hesitation to come in. So most of our events for the public are free. All these lectures have been free. The Juneteenth dinner wasn't free, but we really just charged enough for tickets in order to pay the cooks and servers."
That Juneteenth dinner, which was partially funded by a PA SHARP grant, was designed in partnership with Gail Hinson, a local chef. The menu featured dishes from African-American chefs past and present, including Michael Twitty, an African American Jewish culinary historian and author of The Cooking Gene; the late Patrick Clark, who won a James Beard Award for Best Chef in the Mid-Atlantic region; the iconic Edna Lewis, who was born in 1916 in a community of emancipated slaves and went on to publish The Edna Lewis Cookbook (1972) and The Taste of Country Cooking (1976), essential pieces of American culinary history; and Abby Fisher, an enslaved person born in 1831 in South Carolina who became a pickle manufacturer in San Francisco and wrote the second known cookbook by a black woman in the United States, What Mrs. Fisher Knows About Old Southern Cooking (1881).
"I felt like we were eating history," recalls Secrest, "It was amazing."
The evening also featured spoken word, live music, and a talk by Cornelia Swenson of the nearby Johnson House, a station on the underground railroad.
That event sold out, but getting the word out about programming is often a challenge.
"Not everyone is on social media and not everyone gets our newsletter," says Secrest. "We leaflet local coffee houses and [community spaces] for certain big events. Some of the lectures are not as well attended and we are working on trying to figure out how to increase that."
Another part of their approach is the Ambassadors Program. Awbury hires people from the neighborhood to stand at the entrance on weekends during warmer months. They greet people, hand out maps, and offer information on upcoming events. Awbury has also recruited more near neighbors for their board, which has become significantly more diverse since 2020.
2023 is the Year of Trees at Awbury. It will also be a year of continued outreach and growth.
"I'm very optimistic for the future, especially when the new signs come in and people feel more welcome," says Secrest. "Right now we're just kind of this big, anonymous block in the middle of Germantown, so what we're hoping is that people will feel it's a more welcoming and safe space."
The Ebenezer Maxwell Mansion sits in the Tulpehocken Station Historic District, which is on the National Register as one of America's first railroad suburbs. The museum was founded with the goal of representing the lives of the rising middle class during the Industrial Revolution in the 19th century, but that mission has greatly expanded in recent years.
"In 2018, we had a strategic planning meeting," recalls Diane Richardson, executive director of Ebenezer Maxwell Mansion. "Before the meeting, I interviewed some stakeholders, one of whom was Rachael Storm, a doctoral candidate at Winterthur at the University of Delaware. She was cataloging some postcards we had here. She said to me, 'What you're offering doesn't really serve your neighborhood.'"
That conversation was an important inflection point. When the institution found it difficult to incorporate African Americans into their existing work around the Industrial Revolution — Black people were shut out of many industries due to discrimination — they decided to focus on 19th-century African-American heroes, most of whom had a Philadelphia connection. The resulting exhibit is called Deep Rivers.
"That has been really successful and really connected us with the neighborhood in a big way," says Richardson.
Like Awbury, the Ebenezer Maxwell House is surrounded by a barrier — but their wrought iron fence has become a promotional tool. They hung a larger banner featuring photographs of Julian Francis Abele, Eliza Ann Grier, John S. Trower and Henry Ossawa Tanner to promote the Deep Rivers exhibit, augmenting a social media campaign and an appearance on 6ABC News.
"The cousins of the descendants of John S. Trower lived in the neighborhood," recalls Richardson. "The Trower family got involved with us because that banner had those images."
But not everything went according to plan.
"We did the grand opening event for the Deep Rivers tour in early March 2020," she says. "We had over 100 people here. We had all this momentum and nowhere to go with it."
When COVID shut down the institution, they pivoted, taking individual characters out of the Deep Rivers interpretive tour and featuring them on virtual zoom talks. Hidden City Philadelphia even ran a story on their success: "161-Year-Old Victorian House Museum Ahead of the Virtual Curve." That kept the momentum going until they could reopen.
The organization has gone the extra mile to keep attention on its new exhibit. They commissioned Linda Gail Sanders, a Germantown artist, to paint colorful murals in an unfinished room of the home, featuring figures from Deep Rivers. A PA SHARP grant helped fund this striking project. The grand opening, held in August 2022, drew 130 people to the site.
The connection to Sanders came through a member of the organization's Black History Advisory Board, which was formed in response to those 2018 conversations about diversifying the mansion's offerings.
"We wanted to do more Black history," recalls Richardson. "I'm a white grandmother. I knew I couldn't do this. I didn't have the knowledge base. And really, it wouldn't be right because I don't understand it, even if I studied it endlessly. Almost all of the [board members] are from the immediate neighborhood of Germantown or Mount Airy. They come by here, they sit and have coffee with me. They have driven this. We don't make a move without them."
---
Battle for the Future
If the neighborhood of Germantown is a palimpsest of American history, then Cliveden is a microcosm. Originally built as a summer house for the Chew family, the home was completed in 1767. The family patriarch, Benjamin Chew, was a wealthy lawyer who came from England. The family had a townhouse on Third Street and multiple plantations in Maryland and Delaware. During the American Revolution, Cliveden was the site of the Battle of Germantown. Outside of a brief stretch, the home remained in the Chew family through the 1970s when they sold it to the National Trust for Historic Preservation; it opened as a museum in 1973.
The initial subject areas of the site included Benjamin Chew — he worked for the Penn family and helped create the Mason-Dixon Line — the Revolutionary War, Georgian Architecture, and 18th-century decorative arts.
"In 2012, through a project funded by the Pew Center for Arts and Heritage, there was a big push to really reshift our interpretation to be much more inclusive," recalls Carolyn Wallace, Education Director at Cliveden. "We want to cover the long arc of history that can be interpreted here, and not just the stories of the family, but also people that lived and labored here."
A key part of this reinterpretation was continued research on the Chew family papers, which comprises 230,000 documents, including receipts from construction, grocery bills, personal letters, and court documents. Scholars unearthed information about the family's plantations in Maryland and Delaware. Cliveden updated their guided tour, installed a new core exhibit, and added lectures, dialogue-based programs and theater-based performances.
Was that really the best model for sharing the stories of the Revolution, America's founding, in a neighborhood, in a city, in a country that's being plagued by gun violence?Carolyn Wallace, Cliveden
Then the pandemic hit.
Like Ebenezer Maxwell House, Cliveden used their fences in creative ways, hanging exhibits and banners. This interpretive content spoke to the lives of free and enslaved laborers that were tied to the family in one way or another. That effort extends to the grounds where they've installed signage crafted from ash trees that were felled on the site.
"For many years, lots of people used the property like a green space," explains Wallace. "They walked the dog or brought their kids and had lunch. And they weren't getting a lot of interpretation of what this place is other than there's an old building and grass and that it's lovely."
In early 2020, the organization embarked on a program to reexamine their interpretation of the American Revolution in light of modern gun violence. For years, Cliveden hosted reenactments of the Battle of Germantown featuring cannons, muskets, and marching soldiers.
"Was that really the best model for sharing the stories of the Revolution, America's founding, in a neighborhood, in a city, in a country that's being plagued by gun violence?" asks Wallace.
Thanks to COVID, what was supposed to be a series of in-person focus groups became well-attended Zoom meetings and Google surveys.
"Those methods actually ended up working out far better than I would have anticipated," recalls Wallace. "What is a pandemic but an opportunity to really ask, 'What do you think about this?'"
Turns out the local community didn't really like the booming cannon fire.
"How do we interpret the violence of the Revolution in a way that is sensitive and cognizant of the experiences of young people who now have to do shelter-in-place drills?" she continues. "Thinking about how we talk about the importance of the Revolution in a way that is sensitive but authentic — it's a fine line to walk. And talking about all the people that are serving the Revolution. We do activities that really focus on the roles that African Americans played and what choices were opened to African Americans during the Revolutionary period."
Cliveden is also starting to plan for 2026: America's semiquincentennial, or 250th birthday.
"What does that look like nowadays?" asks Wallace. "It's going to be an interesting conversation about America's birth and founding — how far we've come and the work we still have to do."
---
Article Credit:
---
Topic
Arts and Culture
Community Development