Day in the Life: Collecting Artifacts for the West Chester Exposition with Aaron Stoyack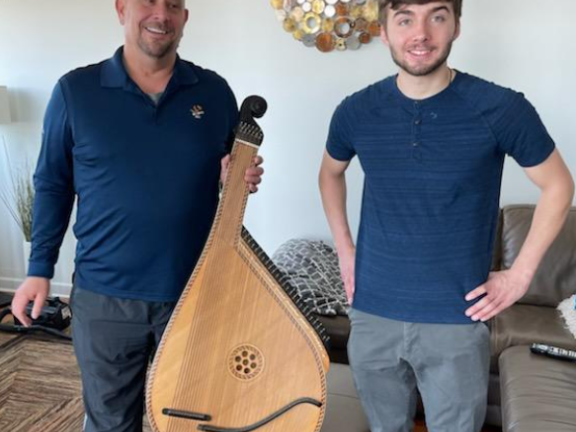 By Aaron Stoyack
On April 11, my professor, Dr. Di Giovine, and I picked up artifacts from lenders in Philadelphia. Giovine is the Director of the Museum of Anthropology and Archaeology and is teaching a course in which students curate a museum exhibition. This year's exhibition is "Beyond the Bell: Philadelphia's Many Heritages." With the help of GPA, the museum is connecting with diverse communities to tell the story of the mosaic of cultures within the Philadelphia region.
9:00 AM: We left from West Chester University. The car was abuzz with excitement to acquire the artifacts, but also anticipation for traffic and parking.
10:00 AM: Arrival in Philadelphia, passing landmarks such as the Wells Fargo Center and the Philadelphia Navy Yard.
10:30 AM: Visited the waterside apartment of Yuriy Porytko, a Ukrainian American who lent to the exhibit a bandura and statue of Volodymyr the Great. He explained in detail the statue, before giving an in-depth bandura lesson. The Ukrainian instrument is mastered by only about two hundred people in the world. For hundreds of years, storytellers would use the bandura to perform folk songs of the Ukrainian people. Porytko detailed the unique provenance of the instrument, being smuggled out of the Soviet Union. The USSR suppressed Ukrainian culture, seeing it as a threat to centralized power. As such, bandura factories were shuttered. In secret, one factory produced a single instrument, which was smuggled out of the country supposably as a person with a passport! It came into the possession of Porytko's grandmother and has been in the family ever since.
11:15 AM: After hearing this fascinating tale, we got down to business discussing the terms of the loan. All artifacts are lent until March 1, 2023, upon which the exhibition will be closed. The bandura will be examined by an internationally renowned lutist in West Chester University's School of Music, after which it will be insured. Porytko walked us down to the car as we carefully packaged the priceless artifacts.
11:30 AM: Navigating through downtown Philadelphia is made easy thanks to the simple street layout. Philadelphia was envisioned by William Penn with a grid-like pattern of wide streets to promote green spaces. At the time, this idea was revolutionary. To honor this layout, the exhibit room is designed in an offset grid pattern to promote ease of movement and viewing throughout.
12:00 PM: Stopped at Parkway Central Library to acquire artifacts from Mary Marques, who works for Accion Colombia. They are dedicated to preserving Colombian culture within the tristate area. On behalf of the organization's Executive Director, Leity Rodriguez-Largo, a box full of items was lent. Among the most interesting were clothing such as a sombrero vueltiao and cumbia dress. In addition, photos and newspapers related to the author Gabriel García Márquez were included. "Gabo," as he is affectionately known, is a major point of pride for AC, and they perform programs about him every year, including one in 2019 with Taller Puertorriqueño.
12:30 PM: Driving all the way across the city, we could not help but notice the plethora of murals which give Philadelphia its fitting nickname of "The City of Murals." Each of these pieces speak to something its community holds dear; from depicting the Chinese diaspora, to NBA legend Wilt Chamberlain, to abstract paintings representing subjects such as biotechnology and the arts. Prominent murals were used as a reference in the exhibition's early planning stages to determine what the cross-cutting motifs were throughout Philadelphia.
12:45 PM: Visited the Catholic Historical Research Center of the Archdiocese of Philadelphia. Located within an old church, their archives are immense, with dozens of rolling shelves containing everything from newspapers to nun dolls to holy relics. We acquired pieces related to St. Katherine Drexel, a Philadelphia native and the patron saint of racial justice. She established fifty schools for African Americans and twelve schools for Native Americans, and she was canonized in 2000. Instead of having the CHRC sign our loan agreement, we signed theirs. Most are very similar, specifying how long the object will be lent, who is responsible for it, and how it may be used.
1:15 PM: Dropped in to visit Giovine's sister, who works at CHOP. They discussed potential student internships, such as an anthropology student interested in healthcare outcomes for minority patients.
1:45 PM: Giovine and I had a late lunch at Pizzata Pizzeria. The Italian-owned eatery uses a blend of fresh ingredients, including a unique rye crust. We devoured a full pizza by ourselves!
3 PM: Dropped in to pick up our final pieces. These were a pair of paintings by Salomé Cosmique, a Colombian artist passionate about the healing power of art. Both abstract artworks represented Hindu deities, one being Ghanesh and the other depicting Sharanga, the Celestial bow of the god Vishnu. These Colombian paintings with Hindi inspirations are exactly the type of cross-cultural objects we wish to display.
4 PM: Sitting in traffic, we were nevertheless even more excited than before after seeing these items with our own eyes.
5 PM: Returned to West Chester and carefully deposited the artifacts in our collections room.
As busy of a day as it was, there is still much work to be done. The exhibition opens on September 16, before which there are still more artifacts to be accessioned, design elements to be incorporated, and display cases to be installed. However, we are confident that this exhibition will be something which all local Philadelphia community organizations will be proud of. In the end, this experience proved to be a crucial opportunity for myself as it is important to involve people of all ages to culturally understand the World Heritage locals around us.
Topic
Arts and Culture
Emerging International Journalists Program
History and Preservation