Bridging Cultures: Celebrating Brazilian Heritage in Philadelphia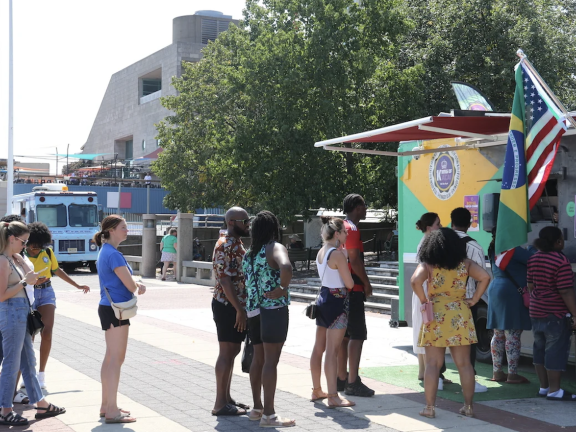 After over two centuries of Portuguese colonial rule, Brazil won its independence on September 7th, 1822 and the victory is now celebrated annually all over the world. There are over 3.1 million members of the Brazilian diaspora, over 1.3 million of which call the United States home. Philadelphia has become a popular destination for Brazilian immigrants to settle, attracting families, students, and workers who are looking for a new beginning. That was the case for me when I chose to leave my hometown of São Paulo, Brazil to attend Temple University in 2019. I have learned a great deal about Brazil's presence in this city since then.
Every year, the Brazilian Day Philadelphia event is held in the week surrounding Brazil's Independence Day. The celebration of this date here also includes a flag ceremony at City Hall, "Capoeira performances and classes, and a variety of other arts and cultural events for the public to enjoy".
The majority of Brazilian immigrants living in Philadelphia arrived in the 1980s and 1990s. They sought better economic opportunities when Brazil entered a period of economic and political instability that plunged the country into a crisis of mounting inflation and stagnation, referred to as the "Lost Decade." There are a wide variety of reasons why Brazilians choose Philadelphia, but a significant one might be that certain aspects of life here mirror those of Brazil. The energy and somewhat chaotic atmosphere of Philly reminded me of my hometown. It was a way to be somewhere new that also felt like home at the same time.
Over the years, the Brazilian community in Philadelphia has grown significantly, and today it is estimated that there are over 20,000 Brazilians living in the city. This community has made significant contributions to Philly's culture and economy. The opening of businesses such as restaurants and shops by Brazilians has enriched the city's commercial landscape, a testament to the importance of immigration for the growth of local economies within Philadelphia and many US cities.
Kouklet is a Brazilian bakehouse that serves authentic baked goods on Passyunk Avenue. Besides the staple cakes and other foods that are permanently available, they offer different menus weekly. The Don Pedro Market on Castor Ave offers groceries, meats, and more products from Brazil as well as other Latin American countries. My first time there, I was amazed to hear Portuguese being spoken all around me, and ecstatic to see many staple foods from my childhood that I could enjoy here in Philly. Other businesses are the prominent steak houses, such as Chima, Fogo de Chão, and Picanha.
As a Brazilian living in this city, I was glad to learn about the various options available to keep in touch with my heritage. When I first got to Temple University, I discovered the Brazilian Students Association - BRASA. This organization provides support and assistance to Brazilian students living abroad, especially in the US. In Philadelphia, this organization is a staple for the Brazilian international student community with branches at both Temple and the University of Pennsylvania. This was a great way to meet other Brazilians near me and preserve my traditions while living in the US.
Brazil has an incredibly rich culture due to its history. With influences from Portuguese colonizers, enslaved African people, Indigenous Peoples, and even Japanese and Lebanese immigrants, Brazil has an extremely diverse demographic makeup that few other nations do. And as a large country - fifth largest in area and the seventh most populated in the world - not all of its regions are the same. Philadelphia enjoys a microcosm of this reality. The various steakhouses represent the gaúcho people from the Brazilian South, the capoeira performances are an Afro-Brazilian practice, and the staple cake rolls from Kouklet Bakehouse are a quintessential sweet dish of the Brazilian Northeast.
Overall, the vibrant Brazilian community of Philadelphia brings comfort to the many expats living in the city. The presence of Brazilian heritage here also benefits locals; the many food, entertainment, and other types of businesses contribute to the economy and offer opportunities of exploring the rich Brazilian culture.
---
Photo Credit: Cory Sharber/WHYY
Topic
Arts and Culture
Emerging International Journalists Program
Global region
North America
South America