Club De Lecture En Ligne: LA DÉCISION DE KARINE TUIL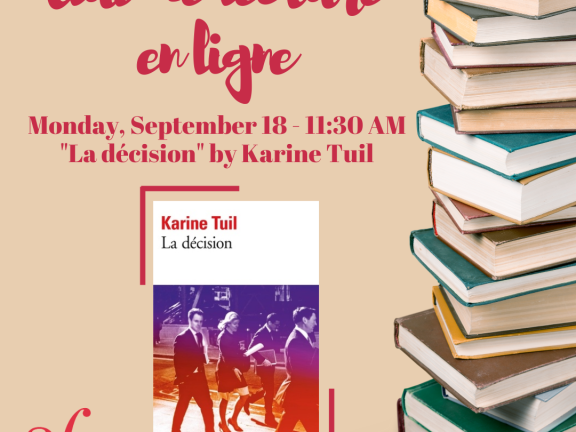 Join Françoise Zanchetta on Zoom to talk about Francophone Literature The Alliance is resuming its book club online, from September 2023 to July 2024!
Join the Club de Lecture to discuss the book of the month priorly read by all the attendees. Exchange about your emotions, opinions with the other members and get the opportunity to expand your literary culture and to improve your French!
*** BOOK OF THE MONTH *** La décision de Karine Tuil (304 pages) Mai 2016.
La juge Alma Revel doit se prononcer sur le sort d'un jeune homme suspecté d'avoir rejoint l'État islamique en Syrie. À ce dilemme professionnel s'en ajoute un autre, plus intime : mariée, Alma entretient une liaison avec l'avocat qui représente le mis en examen. Entre raison et déraison, ses choix risquent de bouleverser sa vie et celle du pays... Karine Tuil nous entraîne dans le quotidien de juges d'instruction antiterroristes, au cœur de l'âme humaine, dont les replis les plus sombres n'empêchent ni l'espoir ni la beauté.
*** WHAT YOU NEED TO KNOW *** Day: Monday, September 18th, 2023 Time: 11:30 am
Duration: 1-1.5 hours
Location: Zoom
Group Size: 8 maximum
Language requirements: B2 level minimum - French speaking course
Members: $10.00 | Non members: $15.00
BOOK CLUB PROGRAM ***
Lundi 6 novembre 2023 : L'Équipage de Joseph Kessel (224 pages)