Chancellor's Forum Commemorating the 25th Anniversary of the International Criminal Court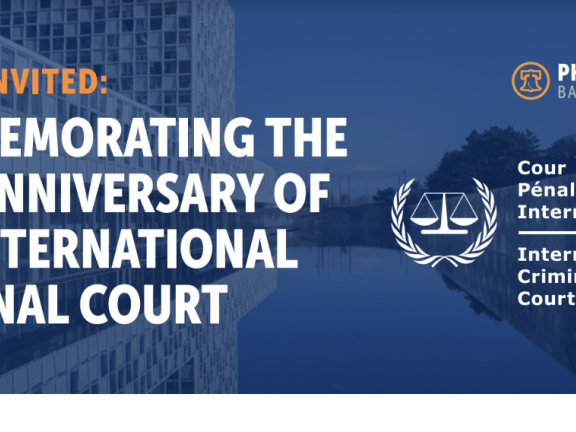 Join Chancellor Marc Zucker and the International Law Committee in recognizing the 25th Anniversary of the International Criminal Court (ICC).
In 1998, 170 countries assembled to adopt the Rome Statute. Four years later, the ICC entered into full force in The Hague, the Netherlands. As a permanent judicial body, the Court is entrusted to prosecute the most heinous crimes of genocide, war crimes, crimes of aggression, and crimes against humanity.
Although the United States is not a Member State of the ICC, the Philadelphia Bar Association consistently has encouraged greater U.S. involvement in the Court's evolution.
The event will feature three prominent speakers: the Hon. Silvia Fernandez de Gurmendi, president of the Assembly of State Parties to the Rome Statute of the International Criminal Court (ICC), former judge and president of the ICC; Rebecca Shoot, co-convener, Washington Working Group for the ICC; and Professor Mike Newton, Vanderbilt Law School, former senior adviser to the Ambassador-at-Large for War Crimes, U.S. State Department. Professor Arthur Traldi, Villanova law school, former prosecutor at the International Criminal Tribunal for the former Yugoslavia, will moderate.
Panelists will discuss criticism of and challenges faced by the Court, its accomplishments, its current reassessment, and its future. Following the program, a cocktail reception with light bites, beer and wine will be offered complimentary of the Philadelphia Bar Association.