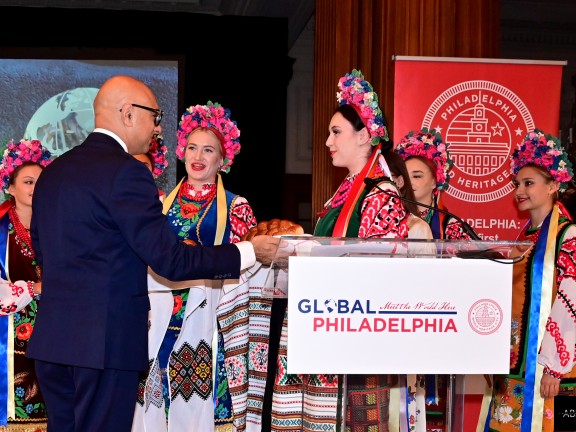 On February 24th in the early hours Ukraine was invaded by Russia - an act of war not seen on European soil since 1945. Global Philadelphia Association recognizes the impact of the Ukrainian community in Philadelphia and stands in solidarity with the community during this time. We highlight the community organizations in our region and the 8 World Heritage sites designated within Ukraine.  
The Ukrainian community in Greater Philadelphia is an important population in our city. It is the second largest Ukrainian community in the United States, after Chicago. Ukrainians, originally known as Ruthenians, began arriving in the Philadelphia area at the end of the 1800s. Like all immigrants, they were not spared considerable hardships in their pursuit of the American dream, struggling to find stable employment. After work, they gathered around their churches, indisputably the centerpiece of their immigrant communities, where they procured much-needed support from their fellow countrymen. 
Theirs was a common purpose: to preserve in this new world their cherished customs and traditions. Thus, their societies abounded with schools, choirs, sports teams, bands, dance groups, reading rooms, and church and fraternal organizations.  As it turns out, the majority of Eastern European Jews who immigrated to Philadelphia from 1895 through 1910 came from Ukraine. It was a much larger territory at the time than its present borders contain, incorporating parts of Belarus, Poland, Lithuania and Russia. 
Most of the current Ukrainian church communities in Philadelphia have family members living in Ukraine and are first-generation immigrants. The book "Ukrainians of Greater Philadelphia" documents how each new generation of immigrants added to the kaleidoscope that became the Ukrainian community in and around the City of Brotherly Love.
A 2016 Pew Charitable Trust report put the number of people born in Ukraine and living in Philadelphia at about 6,900 people. The regional estimate is much larger, more than 60,000 people. 
Check out this video that goes into greater detail about Ukraine's UNESCO sites and the importance of preserving heritage:
---
Show support to Philadelphia's Ukrainian population by checking out these resources:
Relief/Aid Services:
Financial Institutions:
Youth Organizations:
Cultural and Educational Associations:
Churches:
Topic
History and Preservation
World Heritage