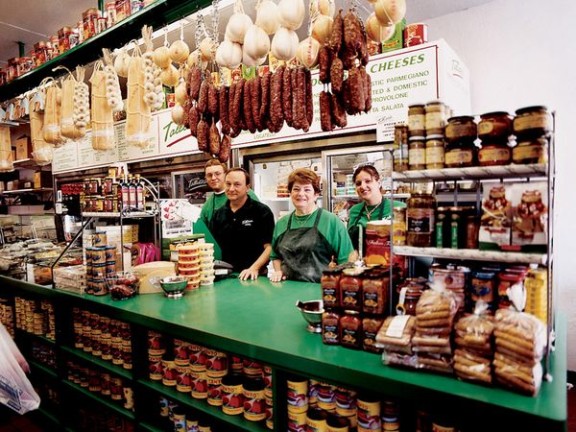 Thirty percent of Philadelphia's foreign born come from Europe. Many are Eastern Europeans that arrived after the end of the cold war.
Philadelphia has been a land of opportunity for European immigrants for hundreds of years. Europeans were the first to arrive, fleeing religious persecution and seeking the economic opportunity of the new world. William Penn, Philadelphia's founder, was an immigrant from Great Britain, and envisioned the city as a haven of religious tolerance, encouraging those persecuted in Europe to settle here.
Immigrants from all over Europe passed through Philadelphia's ports and made lives here, creating ethnic neighborhoods that still exist today. The Italian Market in South Philadelphia and the Polish neighborhood of Port Richmond are just two examples of neighborhoods that continue to preserve their European roots. Many churches and synagogues offer services in languages that reflect the origins of their congregations. Many Philadelphians identify with their Italian, Polish and Irish roots though they are several generations removed from their countries of origin, demonstrating the cultural contributions of early immigrants to Philadelphia's identity. Philadelphia favorites like water ice and pretzels have their roots in European immigrant cultures as well.
More recently, European immigration to Philadelphia has been influenced by the break-up of the Soviet Union. Russian-speaking immigrants are making Northeast Philadelphia their home, and creating commercial strips and cultural centers that cater to their cultures.

ALBANIA
POPULATION
No official U.S. Census estimate
WHERE THEY LIVE
For their first few months in the U.S., most stay with their family's immigration sponsor, usually in the Fishtown area. After a year, many gravitate towards the Northeast. Albanian immigrants can also be found in the Upper Darby and Media areas as well as in the Warminster-Doyleston area.
COMMUNITY
Albanian American National Organization
IRELAND
POPULATION
206,582 persons of Irish descent (U.S. Census 2000)
WHERE THEY LIVE
Historically Irish immigrants settled in the wards of Southwark and Moyamensing in South Philadelphia, with smaller numbers in Northern Liberties and Old City. Today, vestiges of these enclaves remain in the neighborhoods of Queen Village and Gray's Ferry. Irish immigrants and their descendents live in almost every neighborhood of the city especially in Northeast Philadelphia and Manayunk and throughout the suburbs. The "new" Irish immigrants (those who immigrated since the 1980s) have settled in Delaware County with the highest concentrations found in Upper Darby and Havertown. Irish Americans make up the largest ethnic group in the Philadelphia area. If the surrounding suburbs are included, more than 1.1 million people in Greater Philadelphia claim some percentage of Irish blood. The majority of the Irish American population in Philadelphia is Roman Catholic.
COMMUNITY
The Irish Community
Irish Diaspora Center Philadelphia
ITALY
POPULATION
140,139 persons of Italian ancestry (U.S. Census 2000)
WHERE THEY LIVE
Italians have settled in the South Philadelphia area around 9th Street and Washington Avenue, as well as in significant historic Italian enclaves in West Philadelphia and Germantown.
COMMUNITY
America-Italy Society of Philadelphia
POLAND
POPULATION
65,508 people of Polish descent (U.S. Census 2000)
WHERE THEY LIVE
Historically, Poles settled in the Philadelphia neighborhoods of Bridesburg, Port Richmond, Nicetown, Manayunk, Roxborough, and South Philadelphia. Today, Bridesburg and Port Richmond remain Polish enclaves, and Poles also reside in Fishtown, Manayunk, Roxborough, the greater Northeast and other areas.
COMMUNITY
Associated Polish Home
RUSSIA
POPULATION
26,375 Russian-speaking (U.S. Census 2000)
WHERE THEY LIVE
Most live in the Far Northeast, Central City, Logan/Fern Rock, Oxford Circle, Lawncrest/Summerdale. As Russians gain financial success, they tend to move out to the suburbs in Bucks County and Montgomery County.
COMMUNITY
Russian Town Philadelphia
Russian Speaking Northeast Philadelphia
Global region
Asia
Eastern Europe
Western Europe