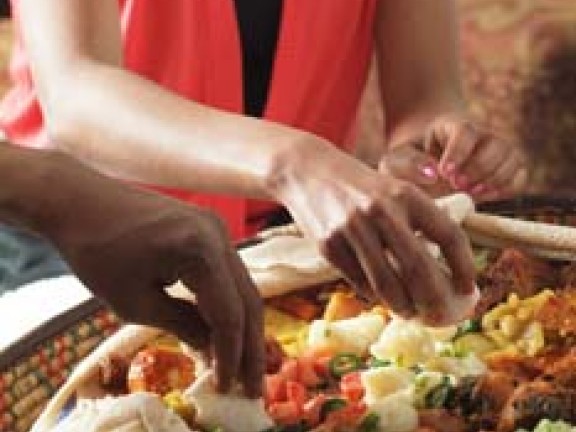 Seven percent of Philadelphia's foreign born come from Africa. There are immigrants from almost every African country in Philadelphia, though the largest communities are from Nigeria, Liberia, Ethiopia and Ghana.
For more than 300 years, Philadelphia has been home to people of African origin – from African slaves in the 17th and 18th centuries to waves of the "Great Migration" from the southern states in the late 19th and early 20th centuries. In recent years, Philadelphia has come full circle and is once again playing host to a new population arriving directly from the continent of Africa. There are an estimated 50,000 African immigrants living in the Greater Philadelphia area, representing a variety of nations, cultures, languages and religions.
Since 1980, the United States has accepted refugees from Africa, and many have been resettled in Philadelphia. Most African refugees in the region come from the Horn of Africa (Ethiopia and Eritrea in the 1980s, Somalia and Sudan more recently) and Liberia and Sierra Leone in West Africa. The "family reunification" provision allows for refugees to be resettled in places where they already have kin, which explains the concentration of these populations.
African immigrants also come to Philadelphia seeking economic and educational opportunities. Many settle in the same neighborhoods as friends and family members who came before them, creating pockets of different populations around the area. For example, many Sierra Leoneans, Liberians and Ethiopians live in Southwest Philly, whereas Sudanese tend to settle in either West or Northeast Philly. There is a small Kenyan population in Norristown, and a number of Eritreans live in Lansdale. Other groups such as Nigerians and Ghanaians are dispersed throughout the city and suburbs. West Philadelphia, specifically the area around Baltimore Avenue in University City, has emerged as an African commercial district, although Africans own business throughout the city.
Statistically, immigrants from Africa have the highest educational levels among all immigrants to the United State. On average, they have over three years of college, and more than half are college graduates. Yet many Africans experience a decrease in job status and earnings when they arrive in the U.S. because their professional credentials from home or diplomas from non-American universities are not valued. Frequent difficulties in finding satisfying work have led many African immigrants to work in particular employment niches, where the demand is high and the required skills limited. These niches include work in nursing homes and as residential aides for the elderly and disabled. Many African men drive taxis and work in parking garages, while many African women work in braiding salons. African professionals are represented in medicine, research, education, administration, social work, and numerous other fields. Many would have preferred to practice their profession in Africa, but they could not be absorbed into their countries' economies. They thus became part of Africa's "brain drain" to the developed world.
Philadelphia is home to a variety of African national and ethnic organizations, representing the diversity of national and ethnic affiliations on the continent. Some leaders from these organizations have united to create AFRICOM, or the Coalition of African Communities, to be able to exert more power on the local scene by using a single "African" voice in order to increase its members' access to social and health services, educate the media about Africa, and collaborate with African American organizations.
The variety of African cultures have added to the richness of Philadelphia. Following are profiles of some of the larger African populations in the City.
ERITREA
POPULATION
No U.S. Census estimate
WHERE THEY LIVE
Many Eritreans live in West Philadelphia, where their community center is located. Most Eritreans speak Tigrinya, with smaller numbers speaking Tigre, Bilen and Saho. Eritreans share many cultural similarities with Ethiopians, including food and music.
COMMUNITY
Eritrean Association of Greater Philadelphia Facebook page
ETHIOPIA
POPULATION
No U.S. Census estimate
WHERE THEY LIVE
The core of Ethiopian settlement has been in West Philadelphia, including University City. Ethiopians also reside in Upper Darby. The Ethiopian community is one of the largest African populations in the region. The primary languages spoken by Ethiopians in Philadelphia are Amharic and Oromo.
COMMUNITY
Ethiopian Community Philadelphia Facebook page
The Ethiopian Community Association of Greater Philadelphia
LIBERIA
POPULATION
No U.S. Census estimate
WHERE THEY LIVE
Although Liberians are dispersed throughout the city, there are some concentrations in West and South Philadelphia, Upper Darby, and the Northeast. Like other African communities, Liberians also recognize internal ethnic distinctions, and languages spoken in the community include Liberian English, Lorma, and Kpelle.
COMMUNITY
Liberian Association of Pennsylvania(LAP) Facebook page
NIGERIA
POPULATION
No U.S. Census estimate
WHERE THEY LIVE
Settlement is dispersed throughout the city and surrounding suburbs with no specific neighborhood concentration. Nigerians in Philadelphia represent a variety of ethnic groups and speak a variety of languages, including Nigerian English, Yoruba, Hausa, Igbo, and Efik. Nigerians are the largest African group in the region.
COMMUNITY
Philly Nigerian Professionals Facebook page
Philly Nigerian Professionals Twitter
Global region
Africa
East Africa
West Africa
Topic
Arts and Culture
Community Development
History and Preservation